O'Byrne Cup: Meath and Longford book semi-final spots
January 05, 2019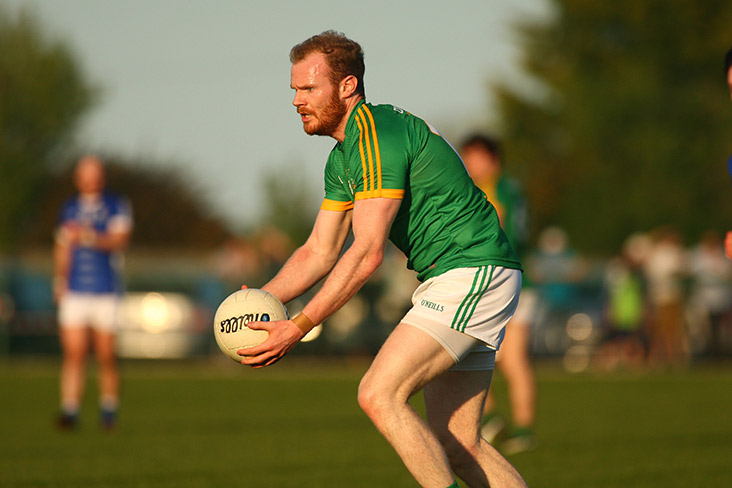 Meath's Sean Tobin
Meath will renew their rivalry with Dublin in the O'Byrne Cup semi-final next weekend after registering a 1-20 to 1-13 victory over Wexford in Enniscorthy.
Having lost to Longford by a point before Christmas, the Royals bounced back with a strong showing against a previously unbeaten Wexford team. They led by 0-9 to 0-5 at half-time and went 1-16 to 0-9 clear when Sean Tobin netted 19 minutes into the second half.
Substitute Donal Shanley replied with a goal for the hosts, but it was a case of too little, too late.
Longford are also through to the last four, despite drawing 1-16 apiece with Louth at Glennon Brothers Pearse Park.
A Peter Lynn goal helped the home side to a 1-12 to 1-6 interval lead, with Tadhg McEneaney raising a green flag at the other end. However, Louth fought back to earn a share of the spoils thanks to Declan Byrne's late equalising point. Longford will face either Kildare or Westmeath, who meet tomorrow at The Downs, in the semi-final.
Meanwhile, John Maughan is still awaiting his first win as Offaly manager after the Faithful County were edged out by Carlow on a 3-12 to 2-14 scoreline at Netwatch Cullen Park. Both teams were out of contention for the knockout stages beforehand.
Meath - B Dardis; S Lavin, T McGovern, R Ryan; G McCoy, D Keoghan, N Kane (0-2); B Menton (0-2), A Flanagan (0-1); E Devine, D Campion (0-2), N Hickey; B Brennan (0-1), M Newman (0-4, 1f), T O'Reilly (0-4). Subs: G Reilly (0-1) for E Devine, E Lynch for T McGovern, S Tobin (1-1, 0-1f) for D Campion, J McEntee (0-1) for B Brennan, M Burke (0-1) for N Hickey, J Conlon for M Newman.
Wexford - M Doyle; M O'Connor, G Sheehan, C Carty; G Malone, S Doyle, T Rossiter; B O'Connor, N Hughes (0-1); C Devitt, J Bealin (0-3f), R Frayne; P Curtis, K O'Grady (0-2), J Tubritt (0-2). Subs: C Devereux (0-3, 2f) for R Frayne, E Nolan (0-2) for P Curtis, E Porter for T Rossiter, B Malone for C Devitt, J Cash for C Carty, D Shanley (1-0) for J Bealin, B Brosnan for K O'Grady, M O'Neill for S Doyle, A Nolan for M O'Connor, D Pepper for J Tubritt.
Referee - J Hickey.
**
Longford - P Collum; P Lynn (1-1), B O'Farrell, S Donohoe (0-1); D Quinn, A Farrell, D Gallagher (0-4, 3f); C Shields, P Hanley; M Quinn, C P Smyth (0-1), P Gill (0-1); B McKeon, R Smyth (0-6, 4f), D Doherty (0-2). Subs: PJ Masterson for C Shields, L Connerton for P Gill, C Lee for A Farrell.
Louth - A McGauley; F Donohue, D Marks, J Craven; L Grey, A Williams (0-1), E Callaghan; B Duffy, T Durmin; C Downey (0-2), R Holcroft (0-1), D Byrne (0-4); N Conlon, S Mulroy (0-3f), T McEneaney (1-2). Subs: J Clutterbuck for L Grey, C Earley for E Callaghan, D Corcoran for F Donohue, C McKeever (0-1) for N Conlon, C Brannigan for T McEneaney, J McEneaney (0-1) for R Holcroft, E Duffy for C Downey, R Nally (0-1) for S Mulroy.
Referee - F Smyth.
**
Carlow - R Sansom; Chris Crowley, S Redmond, D Moran; S Doyle (1-0), D St Ledger (0-1f), S Clarke; B Murphy, S Murphy (0-1); S Gannon, L Walker (1-3), E Ruth (0-1); D O'Brien (0-1), D Foley (1-3, 0-2f), B Kavanagh. Subs: BJ Molloy for D Moran, D Lunney (0-1) for S Clarke, P Broderick (0-1) for S Gannon, D Walsh for E Ruth, Conor Crowley for D O'Brien.
Offaly - J Dunne; D Hogan, E Rigney, D Dempsey; C Donohoe, P McConway, J O'Connor (0-1f); C Mangan, A Leavy; N Bracken, A Sullivan (0-2), N Darby (0-3); B Allen (1-5, 1-0pen, 0-5f), J Moloney (0-1), S Tierney (0-1f). Subs: C Horan for C Mangan, B Rohan for J Dunne, R McNamee (0-1f) for N Bracken, S Horan for S Tierney, K Higgins for A Leavy, J Hayes for C Donohoe, M Abbott for J O'Connor, PJ Daly for C Mangan, C Carroll (1-0) for J Moloney.
Referee - B Cawley.
Most Read Stories