SFC: Flanagan's late free seals hard-earned victory for O Raghallaighs over Joes
July 09, 2018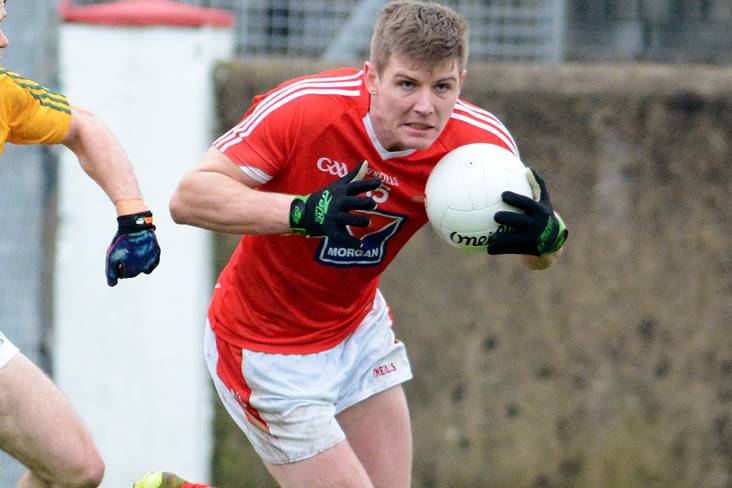 O Raghallaighs' Barry Flanagan in action for Louth.
O RAGHALLAIGHS 1-12
ST JOSEPHS 0-13
The Joes made the O Raghallaighs fight all the way in this round one Intermediate Championship match in The Grove before the Drogheda men emerged with a two-point victory.
The O Raghallaighs dominated the early exchanges with a brace of points each from Barry Flanagan and Eoin Moore but the Joes hit back with scores from Alan Quigley, Conall Smyth and Jack Mulligan to trail by just 0-4 to 0-3.
The Cluskey Park side found their rhythm in the second quarter and scores from Conall Smyth (2), Daire Smyth, Thomas Smyth and Alan Quigley to lead by 0-8 to 0-4 at half time.
The Drogheda side started the second half at a blistering pace with three points in the first four minutes, two from Ruairi Moore and a third from Barry Flanagan. The Joes lifted the siege with points from Daire Smyth and Alan Quigley to leave them ahead by 0-10 to 0-7 on 37 minutes. Minutes later the Joes lost the livewire Conall Smyth to injury and the O Raghallaighs upped their game with three unanswered points from Barry Flanagan, Eoin Moore and Ruairi Moore to draw the sides level on at the end of the third quarter.
The O Raghallaighs defence led by Ciaran Brassil continued to hold the Joes attack and the Drogheda men's ability to build from the back was rewarded on 48 minutes when Ben Rogan scored the only goal of the game.
The teams exchanged points from Daire Smyth and Ruairi Moore, however the Joes were not done yet with Alan Quigley leading the attack with two excellent points to cut the margin to a single point on 59 minutes.
The Joes had chances to add to their tally but it was Flanagan who sealed victory for the O Raghallaighs win an injury-time free.
O RAGHALLAIGHS: Joe Flanagan; Tomas Callan, Ciaran Brassil, Stephen Murphy; Eoin Moore (0-3), James Moonan, Seán Grennan; Alan Doyle, Robert Mulroy; Daniel Morgan, Olan Walshe Barry Flanagan (0-5); Chris Smyth, Ben Rogan (1-0), Rúairí Moore (0-4). Subs: John Matthews and Dean Byrne.
ST JOSEPHS: Seamus Quigley; Conor Neary, Shane McQuillan, Stefan Potts; Alan McKenna, Liam O'Leary, Craig Doherty; Tomas Smyth (0-1), Killian Staunton; Jack Mulligan (0-1); Daire Smyth (0-3), Peter Brennan; Alan Lynch, Conall Smyth (0-3), Alan Quigley (0-5,1f). Subs: Oisin McGuinness, Aidan Kieran.
Most Read Stories