What they said … the hurling weekend in quotes
July 09, 2018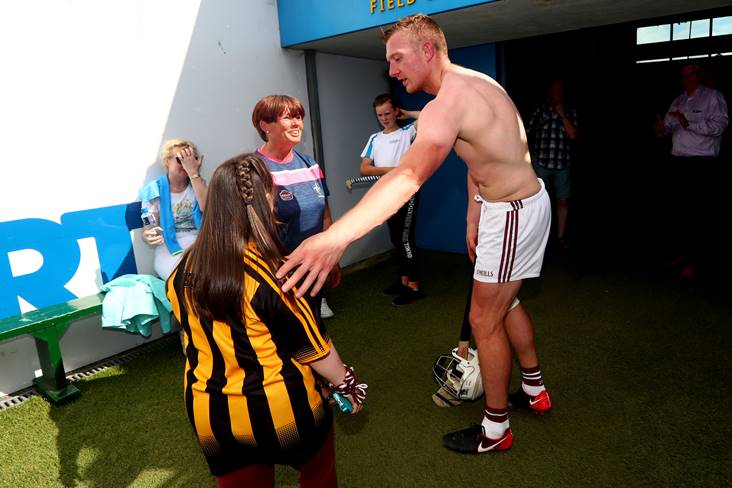 Galway's Joe Canning gives his jersey to supporter Jennifer Malone after his side's Leinster SHC final replay victory over Kilkenny at Semple Stadium, Thurles.
©INPHO/James Crombie.
"The biggest advantage is we've the couple of weeks to regroup and to refocus and go again. Look, it is really hard and people mightn't comprehend how hard it is to turn around in seven days."
After putting Leinster SHC titles back-to-back, Micheal Donoghue and Galway have time on their side.
"It was very important because we have been in those situations in the past three years and Kilkenny have come out on top. Look, they came back with two goals in the second-half. We were a little bit worried to be straight up about, there is no point in saying otherwise, but it shows the different character in this group that we powered on again and finished strong."
Joe Canning and his team-mates stood firm in the face of the Cats' second-half comeback.
"Win next weekend we're in the semi-final. How difficult is it going to be? Hugely difficult. We know the quality that they have. It's going to be very difficult but look, it's a great challenge to be facing. We just dust ourselves off, recovery is everything now. It's going to take a few days for the lads to recover but they will recover because they are in great shape."
Limerick now stand in the way of Brian Cody and Kilkenny and a place in the last four of the Liam MacCarthy Cup race.
"I am really proud of all the players. It's been some journey. My journey is at an end now but we've had some fantastic days and hopefully the team can go from strength to strength as there's a good base there now."
Waterford native Michael Ryan brought his four year tenure as Westmeath senior hurling boss to an end following their defeat to Wexford on Saturday evening.
"It's a tricky one for me so the less I say about Clare the better. It's too close to my heart and I know them well, so the less I say the better. I'll be accused of playing this game or that game so I won't say anything. We'll go out next week and give it our best."
Model County manager Davy Fitzgerald was remaining tight-lipped ahead of next weekend's clash with his native Clare.
"It's a case of getting as ready as we can to put in as good a performance as we can and have a real good go of it."
John Kiely's Limerick overcame Carlow with the minimum of fuss and now switch their focus to next weekend's quarter-final clash.
"We would have had a bit more comfort if we had been a bit closer to Limerick and to say, 'we're not that far away', but Limerick kind of showed us up a small bit in areas we'll need to work on."
Colm Bonnar and Carlow have room for improvement before making the step up to the Leinster SHC next year.
Most Read Stories