Gerry Reilly Cup down to quarter finals
July 25, 2019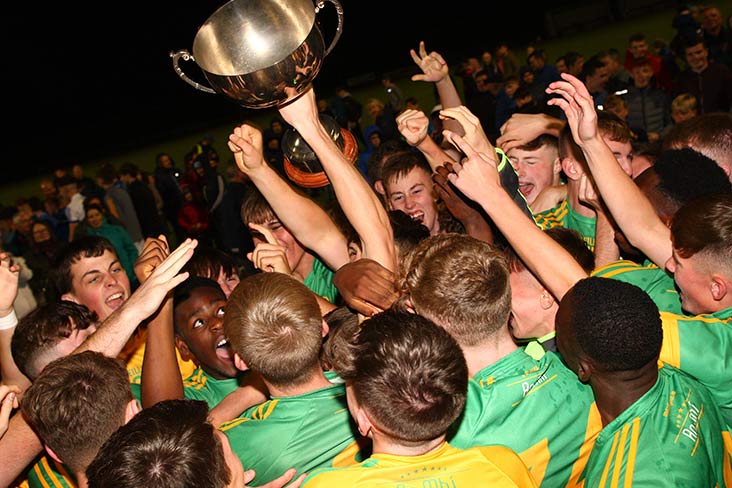 Meath defeated Cavan in the 2018 The Gerry Reilly Cup final in Millbrook.
The first of the Briody Bedding Gerry Reilly Leinster U16 FT Cup Q/Finals takes place on this Friday, 26 July when Louth take on neighbours Down in Millbrook, Oldcastle.
On Saturday Meath take on Wexford and Cill Dara take on Offaly, also in Millbrook, Oldcastle in the Cup Qurter Finals.
The Gerry Reilly Leinster Shield Quarter Finals also take place on Saturday with the 3rd placed team in their respective groups having home advantage.
Briody Bedding Gerry Reilly Leinster U16 FT Quarter Finals

Gerry Reilly Cup Quarter Finals (1st & 2nd placed teams)
Friday, 26 July
Down v Louth (Millbrook, Oldcastle @ 8.00 pm)

Saturday, 27 July
Meath v Wexford (Millbrook, Oldcastle @ 12.30 pm))
Cill Dara v Offaly (Millbrook, Oldcastle @ 2.30 pm))
Cavan v Dublin (TBC)
Gerry Reilly Leinster Shield Q/Finals (3rd & 4th placed teams)
Saturday, 27 July
Westmeath v Carlow (Kilbeggan @ 12 noon)
Kildare v Laois (Hawkfield, C of E @ 12 noon)
Longford v Wicklow (Clonguish, Longford @ 12 noon)
Antrim v Fermanagh (Dunsilly, Antrim C of E @ 12 noon)
Most Read Stories