Donegal star McLaughlin expecting Armagh backlash
August 04, 2018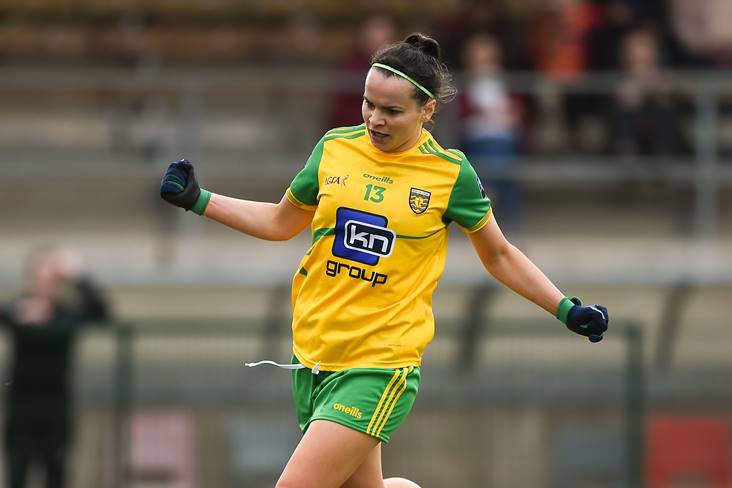 Geraldine McLaughlin celebrates a score for Donegal
by Daragh Small
Donegal's ace forward Geraldine McLaughlin expects a backlash from Armagh this afternoon (SAT) but says her county need to up their standards too after reaching the knockout stages of the TG4 All-Ireland senior championship.
Donegal and Armagh will renew rivalries at Healy Park in Omagh (4pm), seven weeks on from a huge 9-21 to 4-8 Ulster final win for Maxi Curran's side at Brewster Park.
But Donegal have not been as prolific since then and only secured a 0-17 to 0-14 win over Tipperary on 21 July, before last Saturday's narrow 1-13 to 3-6 win over Kerry at Dr Hyde Park in Roscommon.
Donegal still advanced as Group 1 winners but 25-year-old Termon clubwoman McLaughlin has called for a better performance against their provincial rivals.
"We haven't done as well since we came out of Ulster. We beat Tipp by three points and we only won last weekend by a point," said McLaughlin, who's notched 0-20 in her last two outings, as well as a hat-trick of goals in the provincial decider. 
"We probably haven't played as well as we would have wanted but our aim was to top the group. We have to take that as a positive but we didn't play as well as we would have wanted to prepare for the game further on. That's the way it goes.
"We just looked for a good team performance against Kerry. It was good workout for me just as much as any of the other players. We scored a lot in the Ulster final and it will probably a lot tighter in the quarter-final and it probably won't be as easy for us this time."
Donegal also had a resounding victory in the Ulster final last year when McLaughlin scored 2-6 in a 4-11 to 0-15 triumph over Monaghan.
But in the All-Ireland quarter-finals Mayo knocked Donegal out after a 3-14 to 2-11 result at Cusack Park in Mullingar.
And after battling back from a knee cartilage injury at the start of the year, when she had to have key-hole surgery, McLaughlin is desperate to reach a semi-final.
"A couple of years now we have got to this stage and we haven't got past a quarter-final any other year," said McLaughlin. 
"We are looking to this year to take it a couple of steps further. We just have to take it one game at a time and we know Armagh are a really good side. 
"We beat them well in the Ulster final but that wasn't the Armagh side that we know. Any of the teams in Ulster can beat anyone else on their day.
"We got the goals when we needed them and killed the game a little bit. Everything seemed to work out for us that day. They still got four goals and probably had more goal chances that they have got. 
"It will be hard to not see from the outside that we will probably be favourites. But we know Armagh enough to know not to take them for granted. 
"We will have to still go out and give our best performance to beat them."
Most Read Stories