Cian O'Neill on two key areas for both management teams today
September 14, 2019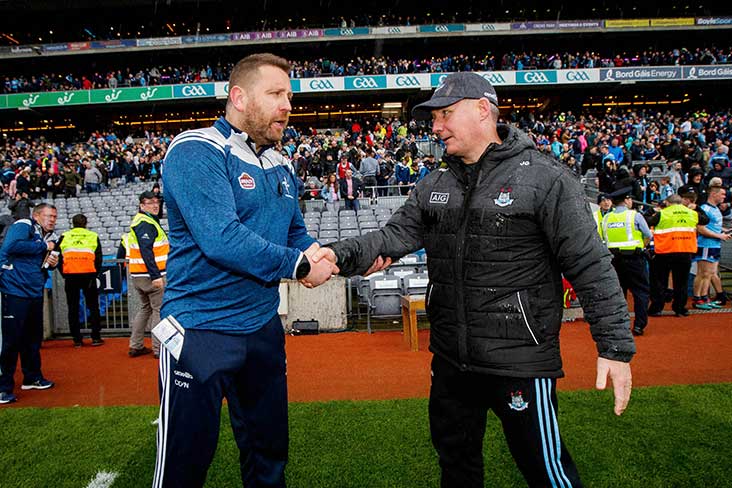 Kildare manager Cian O'Neill with Dublin manager Jim Gavin
Former Kildare manager Cian O'Neill was surprised by Jim Gavin's failure to relieve Jonny Cooper of man-marking duties on David Clifford in the drawn All-Ireland final.
Cooper's participation was brought to a premature end after he picked up a second yellow card late in the first-half and, speaking to RTE.ie, O'Neill - who has been replaced in the Lilywhite hot-seat by Jack O'Connor - stated: "It wasn't like Jonny picked up an unlucky yellow card out of nowhere.
"He was being well beaten on the day. Maybe Jim was waiting to get until half-time, I'm not sure.
"Sometimes the answers are right in front of you."
Kerry manager Peter Keane and his selectors will have spent a lot of time trying to come up with a plan to curb Jack McCaffrey's influence after his tour de force the last day and O'Neill suggested they should take a leaf out of Mayo's book from the semi-final.
"Mayo had a very solid strategy of building their game plan around getting the ball to Paddy Durcan as often as possible.
"It's not as simple as just put someone on him and put McCaffrey on the backfoot because if the ball goes the other wing, it makes no difference. That's where coaching and game analysis comes in."
Most Read Stories