Dempsey alludes to squad strength
December 08, 2017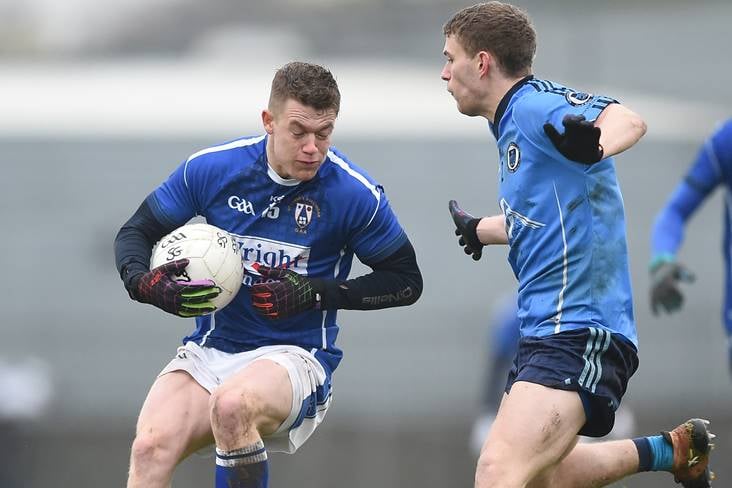 St. Loman's Dempsey with Shane Gallagher of Simonstown Gaels.
©INPHO/Tommy Grealy.
St Loman's forward Shane Dempsey believes that the competition at training has driven them on this year.
Speaking to the Westmeath Topic ahead of Sunday's Leinster club SFC final against Moorefield at O'Moore Park, Portlaoise, Dempsey feels that training has never been as good.
Much has been written stating that St Loman's are a one or two man team (John Heslin and Paul Sharry getting most of the attention), but Dempsey doesn't buy into that theory at all.
"Even on Saturday night, the junior B side had a great win over Milltown and the players were back down again on Sunday morning. They're excited to come back down and they're really driving the thing on this year in training, which is brilliant," said Dempsey.
"There are mornings where they are really putting it up to the first team in training and that has been great. It helps us in tight games and you see the subs we had to come on against both Mullinalaghta and Simonstown Gaels.
"The likes of Kieran Lynam and Conradh Reilly came on and we knew they would drive it on; it's great to know that you have that quality coming off the bench."
Dempsey is expecting Moorefield to be physically strong and that is something that Loman's will have to adapt to.
"We just have to prepare for Moorefield as best we can. They are experienced and we are going to have to keep it out of the tackle a bit more. Running into physically strong players, you're going to get over turned. It's not as free-flowing as in the summer; the ground is dead. You have to try and stay out of the tackles and move the ball fast if you're going to beat these big teams."
Most Read Stories