Moorefield boss heaps praise on O'Connor
November 27, 2017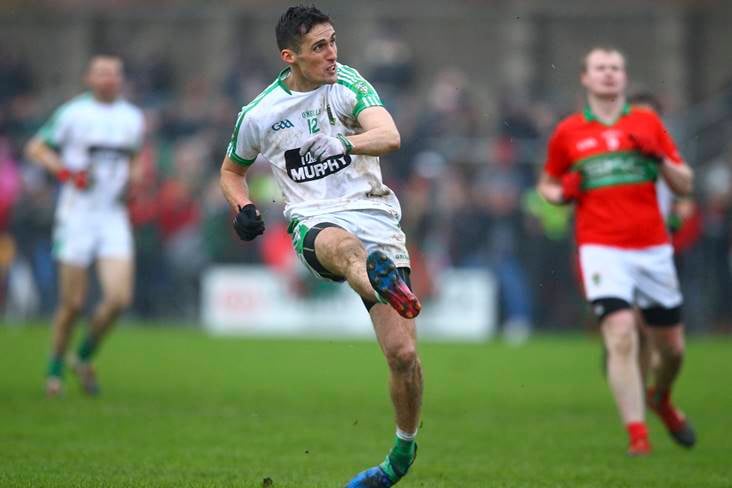 Moorefield's Eanna O'Connor scores a point against Rathnew.
©INPHO/Ken Sutton.
Moorefield manager Ross Glavin believes a Kildare call-up is on the cards for Eanna O'Connor after he produced another impressive scoring display against Rathnew yesterday.
The Kerry native, who is a son of former Kingdom boss Jack O'Connor scored 0-8, including 0-6 from frees, as the Newbridge men triumphed in Aughrim to set up a Leinster club SFC final showdown with St. Loman's on December 10.
"I think it's inevitable that next year he will be asked into the (Kildare) fold," Glavin predicted.
"It's all about form too and his form has really come late this year. As the season has gone on and the matches have got bigger, his form has come good.
"I have no doubt that he will be approached, but I said it before that I do hope it won't be until the 18th of March."
By contrast, it was a bad day for Eanna's brother Cian who picked up a straight red card which will rule him out of the Leinster final.
"It's not easy for two outsiders to come into a club and to get up to the level that's required to play for a big club like Moorefield," Glavin continued.
"They've embraced that opportunity as well to play for Moorefield, they're delighted to be part of it. Jack's delighted to have an involvement in training sessions at various stages throughout the year. He's great to have around because he's a hugely experienced coach within Ireland and it's great to lean on his experience when required."
Most Read Stories