Brilliant Brady takes a fifth title and bows off world stage
August 24, 2015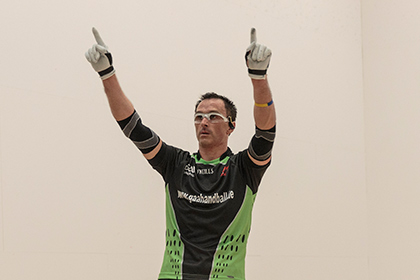 Paul Brady celebrates his 5th title
Cavan's Paul Brady was crowned Men's Open World Handball Champion at the University of Calgary yesterday (Friday) following an impressive 21-8, 21-2 victory over young-gun, Cork's Killian Carroll. 
Brady will certainly now go down as the greatest handballer to ever play the game collecting an unprecedented fifth consecutive world title in Calgary.
"It feels incredible to be going back home as the World champion," said Brady. "The pressure is off me now and there's going to be a new world champion in three years time."
Brady, who announced that this was his last Worlds, dominated the game from the outset and the 22-year-old Mallow handballer was unable to contend with the sheer power and finishing of the defending champion.
Brady raced into a 17-4 lead in game one, reaching 18 with a left corner kill before Carroll came slightly into the game. Brady made some uncharacteristic hand errors as the Corkman hit eight before Brady notched off the last few aces to take the first game.
In the second game, the Cavanman was ruthless and stormed to a 16-0 lead as Brady ebbed closer to the fifth title. Carroll pulled back two points but a determined Brady closed out the game, with two clinical ace serves and three killshots.
In the aftermath, an emotional Brady, talked about the pressure on him to deliver a fifth crown.
"I've had to handle pressure for the past twelve years - you get used to it; it becomes your companion," he said.
"But I've had a target on my back and winning this one is special because it took a lot of consideration about whether or not to compete for it; I can tell you now I'm definitely glad I did."
Earlier, Antrim's Aisling Reilly saw off Catriona Casey in a tiebreaker to retain the Ladies Open title. Casey took the first game 21-10, with Reilly finding it difficult to settle into the game. However, it was a dramatically different second game as the Belfast lady dominated to take a 21-16 win and force a tiebreaker. In the decider, Reilly took an early lead and then held on to defend her crown with an 11-6 victory.
The last game of the championships saw Westmeath's Robbie McCarthy and Clare's Diarmaid Nash take a Men's Open Doubles title with a two game victory over Mayo's Joe McCann and Roscommon's Rikki O'Gara. The first game was evenly contested, with the Clare\Westmeath combination edging to a 21-18 first game win. In the second game, Nash and McCarthy stormed to an early lead, which the men from the West were unable to claw back, eventually going down 21-6.
Most Read Stories