World Handball Championships: Irish take down the Americans
August 20, 2015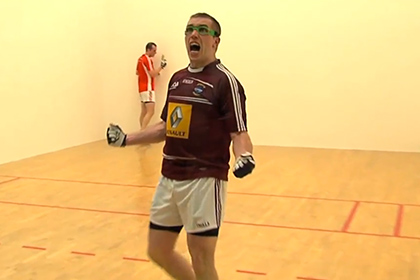 Robbie McCarthy celebrates
Paul Brady's drive for five consecutive World Handball titles remains on course, but he faces one of the toughest tasks in his career to date in Thursday's SF when he meets Team Ireland Captain Robbie McCarthy.
Brady faced major tournament adversary Charly Shanks in his QF encounter and dominated game one winning comfortably 21-9 with some vintage power play. Shanks however refused to lye down and put Brady under sever pressure from the off in game two, eventually holding an 18-17 lead. Shanks looked set to force the tiebreaker but Brady needed just 42 seconds to turn the game on its head and rattle off the final three points to win 21-18.
An all Team Ireland SF showdown awaits with Mullingar's McCarthy who won arguably the match of the day against USA's Sean Lenning. A 21-14 first game win for McCarthy saw him settle well, but Lenning came out shooting in the second to level the match at 21-16.
A tiebreak to 11 aces was all that stood between both men and a World SF spot. McCarthy progressed to hold a 10-7 lead before failing to convert two match points. Lenning drew level at 10-10 but missed a guilt edged opportunity to close out the match. McCarthy duly obliged with his third match point to seal a dramatic 11-10 win, and cue an emotional fist pump celebration.
In what was a very special and unprecedented performance by Irish players at a World Championships, Cork's Killian Carroll & Clare man Diarmaid Nash produced mesmerizing performances to knock out the American #1 & #2 seeds Luis Moreno & Emmet Peixoto respectively, highlighting just how special a group of elite Irish players GAA Handball are producing at a world stage.
Both wins came against expectation, with Nash in the form of his life, controlling his match from the off to win 21-9, 21-14. Carroll on the other hand pushed his body to limits with his all action display with an 11-9 tiebreak win against the 2012 World silver medallist Moreno, who is only one of two players to have defeated Paul Brady in the last 8 years. The performance of the Irish in Calgary is breath taking, and has shell shocked the American & Canadian players.
In the Ladies, reigning champion Aisling Reilly & Catriona Casey also look set to renew their rivalry with another final shootout after both girls showed their class by ousting the USA's Tracey Davis & Canada's Jessica Gawley respectively in their QF encounters.
Most Read Stories