Dubs are targeting league success, says Whelan
March 02, 2018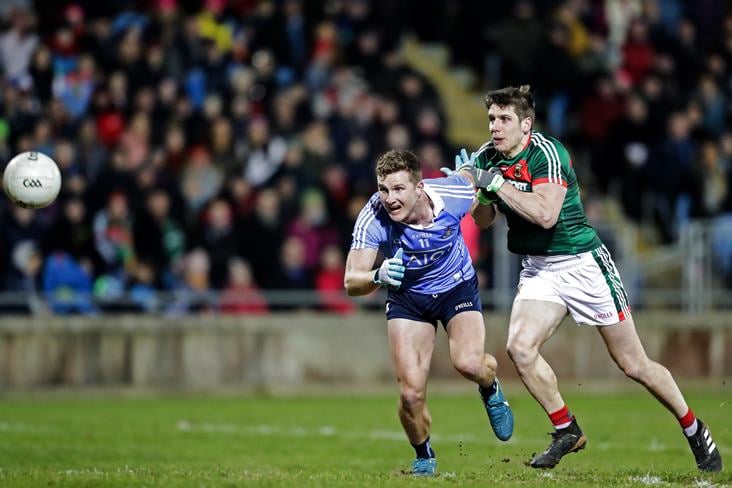 Dublin's Ciaran Kilkenny and Lee Keegan of Mayo tangle during the Allianz League encounter in Castlebar
Ciaran Whelan believes Dublin have their sights set on regaining the Allianz Football League title.
Kerry famously ended the Dubs' remarkable 36-match unbeaten run in last April's league decider, and Whelan reckons they are keen to make amends.
"From my perspective, I have been very impressed by what I have seen from the All-Ireland champions and I feel that they are in a very good place in terms of their ambitions for the rest of the year," the former Dublin midfielder wrote in his column for The Herald.
"It's clearly evident that Dublin would like to regain the NFL title and you can see from Dublin's selections, that there has been much more consistency than we might have seen in previous years.
"That suggests that Jim Gavin, while not completely going with the tried and trusted, has been less inclined to experiment and that has led to a greater degree of consistency in terms of the performances.
"That policy has been helped by the structure of the fixtures this year in that the season is well-mapped and divided into two distinct and separate stages. As a result, Dublin can invest more in this year's league than in previous years and the players will enjoy a break of sorts when they return to their clubs for a period prior to returning in time for championship preparations.
"Ultimately, Dublin are unbeaten and look primed to make the league final."
Most Read Stories