McHugh "extremely lucky" to beat meningitis
March 06, 2018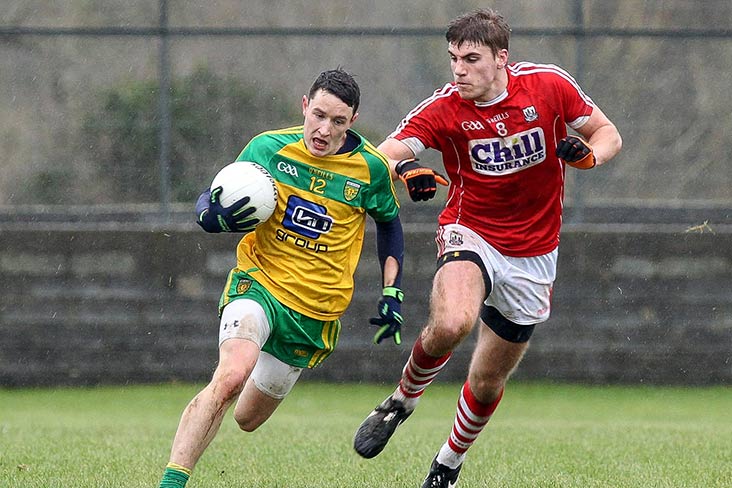 Donegal's Eoin McHugh in action against Ian Maguire of Cork during the NFL Div 1 clash in Ballyshannon
Eoin McHugh has opened up on how he was struck down with meningitis in 2015.
The Kilcar clubman - who has opted out of intercounty football this year to focus on his studies at UUJ - was one of Donegal's hottest prospects at the time, a member of both the county U21 and senior squads, son of 1992 All-Ireland winner James and nephew of Martin. But he knew something was wrong when he woke up the morning after facing Fermanagh in the Dr McKenna Cup and couldn't get out of bed…
"I took meningitis in 2015, my first year with Donegal, took meningitis in the January. That was pretty much the season gone," he told The Irish News. "I tried to play with Donegal U21s, tried to play with the seniors, but I'd lost that much weight it ruined my season, ruled me out.
"I suppose I didn't understand it was that big of a deal, but when I look back on it and my family looks back on it, it had a massive effect on me. I was down to maybe nine stone, I was skin and bones. Normally I would be 11, 11-and-a-half stone.
"At the time I didn't realise how serious meningitis was. It was only six months later Aaron Devlin died with it. I remember the Donegal doctor, Kevin Moran, who was in hospital every day looking after me, he came up to me when I was sitting on the physio bed at training and said to me 'Have you heard about Aaron Devlin? You had the same thing. He just didn't catch it in time.'
"When I look back on it - thank God, touch wood, I'm all right at the minute. But when you hear that about such a young fella, who was in the exact same position I was, coming into the start of his career... I played against him at U21 level. I got away with it, I was extremely lucky.
"It was worrying, especially for my mother and father. My mother doting over me, I suppose - I'm the only boy in the house - she was worried about it. At the time I didn't realise it. At the time I had no notion how serious it was. Thank God, now, I'm back to normal and healthy living."
Most Read Stories