"He must have lost the page on what Harte has brought to Tyrone"
August 13, 2019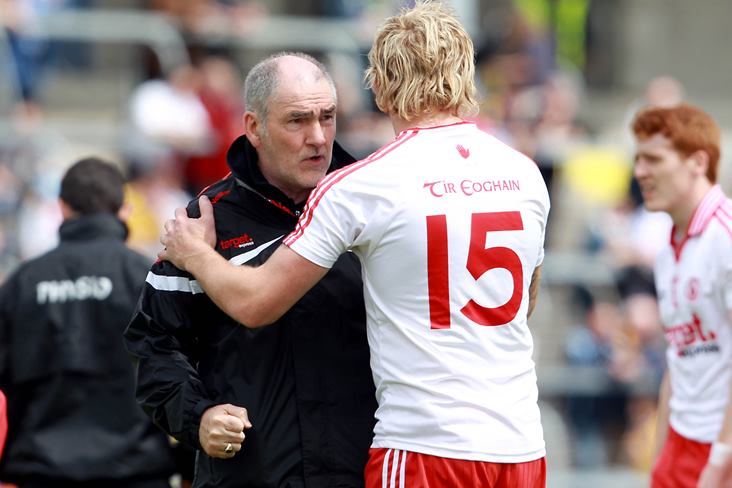 Owen Mulligan with manager Mickey Harte during his playing days with Tyrone
Owen Mulligan has taken issue with Sean Cavanagh's suggestion that Mickey Harte should be step aside as Tyrone manager.
The former Footballer of the Year stated on The Sunday Game following the Red Hands' All-Ireland semi-final defeat to Kerry that perhaps the time had come for Harte to pass on the baton and let someone else have a go at managing Tyrone.
Mulligan and Cavanagh won three All-Irelands together under Harte's watch and the former feels his ex-team-mate has a short memory, writing in his Paddy Power column that Cavanagh had "embarrassed" himself and that Harte "deserves better":
"I watched the Sunday Game with interest as Sean Cavanagh gave his thoughts on the future of Mickey Harte. Sean always has lots of notes in front of him during those broadcasts, but he must have lost the page on what Harte has brought to Tyrone.
"Incredibly, he summed Mickey Harte with just six words, 'an amazing servant for the county'. Really, is that it Sean? Jesus! I know men that have served committees that are amazing servants for the county. But Harte has no equal in Tyrone management or coaching circles.
"He's delivered 37 trophies in 28 years, 23 of those trophies with the Tyrone senior team. Mickey revolutionised the fortunes of county football in Tyrone, and all Sean can offer is six words on him."
Most Read Stories