'I eat, sleep and breathe it'
July 20, 2019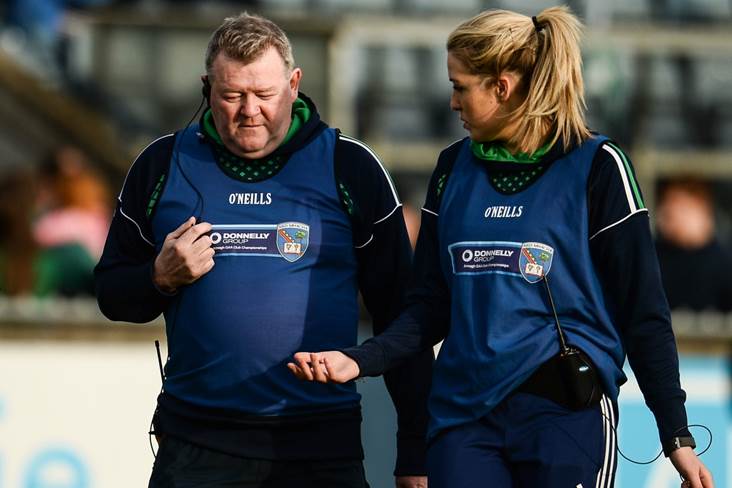 Shane O'Neills joint managers Peter Lynch and Caoibhe Sloan during the All Ireland Ladies Football Intermediate Club Championship Final 2016 match between Annaghdown and Shane O'Neills at Parnell Park in Dublin. Photo by Sam Barnes/Sportsfile
by Declan Rooney
With joint-manager Peter Lynch on one elbow and her father Anthony on the other, 29-year-old Caoibhe Sloan is having the year of her life in charge of the Down Ladies footballers.
Late last year Sloan and Lynch were put in charge of the county side, with the aim of lifting standards, improving results and helping the players enjoy their sport again.
Wins over Offaly and Meath book-ended a successful drive to remain in Division 3 of the Lidl National League earlier this year, but following last weekend's defeat to Sligo, their Intermediate championship hopes rest on tomorrow's (SUNDAY) encounter with Limerick in Burren.
Sloan was brought up on the Down side of the Armagh border near Camlough, while she was schooled in the Co Armagh village of Bessbrook. It's no surprise that her short club career featured spells with Iveagh Bosco in Newry and Shane O'Neill's in Armagh.
Life as a manager started in 2016 at Shane O'Neill's, but it's only a shock that it took her 26 years to follow in her father's managerial footsteps.
"It's not a romantic or fairytale story. Everybody loves the county player that comes back and coaches, but that's not me at all. I've just found myself here," said Sloan, who teaches English at St Patrick's Grammar School, Armagh.
"My father coached Newry Mitchels and is part of our backroom team this year as well. He has a brilliant football brain. There are videos of me following him about at the age or three or four, running on to the pitch after him.
"Instead of players, I looked up to a manager and without really knowing it, that's what I became. I absolutely love it. I eat, sleep and breathe it. You love going to training, you're getting the best out of people. The girls are starting to really enjoy their football and so are we. That's what we want to do is to try and get people to love the game."
It's no surprise that there are moments of self-doubt when you're the youngest inter-county manager on the scene and one of just three female managers in the Ladies football championship – Armagh duo Lorraine McCaffrey and Fionnuala McAtamney complete the tally.
On the sideline, Sloan says she feels at home, coaxing the best out of her players, but when it comes to some other parts of the job, she needs a little bit of reassurance herself. Thankfully, Sloan has a bank of encouragement to draw from.
"It's funny, on the way into Croke Park for the Championship launch, somebody tried to usher me in to get a jersey and a pair of shorts on to go with the players for the photos.
"Sometimes you wish you were a 50-year-old man and you'd fit in so much better. But I was on the phone to home and they told me: 'Wise up. Stand yourself up straight and tall. You have a job to do and you're doing it well. Them Down girls are loving it, don't be so silly'.
"That's all it takes is a reassuring voice to say: 'Keep going; so what if they're all a lot older; you know what you bring'. That's what we need to tell the girls as well, they need to know it doesn't matter is they're the only girl there. Just do it, just get involved, just don't be afraid."
Last season started brightly for the Down ladies, but a 6-18 to 0-3 loss to Meath in the Lidl Division 3 semi-final knocked the stuffing out of them.
Three heavy championship defeats later, they found themselves in a relegation play-off and somehow rallied to claim a win over Longford to avoid the drop.
Since Sloan and Lynch took charge, there have been a few changes in the squad as they look to build for the future. Team captain Kate McKay is only two years younger than Sloan, but the age profile of the squad is such that exams and school holidays are the dominant talking point.
"Down through the years, the team lost players like every team and suffered a couple of big defeats. After talking with the girls they told us 'we're sick of getting hammered'.
"We set up a little bit defensively at the start of the year to try and curtail that and now we're working on our forward play a bit more, but that is going to take time. The girls know that and we know it too.
"It's a learning process for everybody. We've loads of the girls who are still in school, and just finishing their A Levels, the equivalent of the Leaving Cert. It's unbelievable for them, this is their first league campaign and their first championship campaign.
"Kate McKay, our captain, keeps telling them to enjoy these days because you don't get too many of them. If you are coming away saying I want to go to training, I'm enjoying my football, then you're already winning. If we can do that first then hopefully the glory days will come."
Most Read Stories