HS football team of the week
July 16, 2018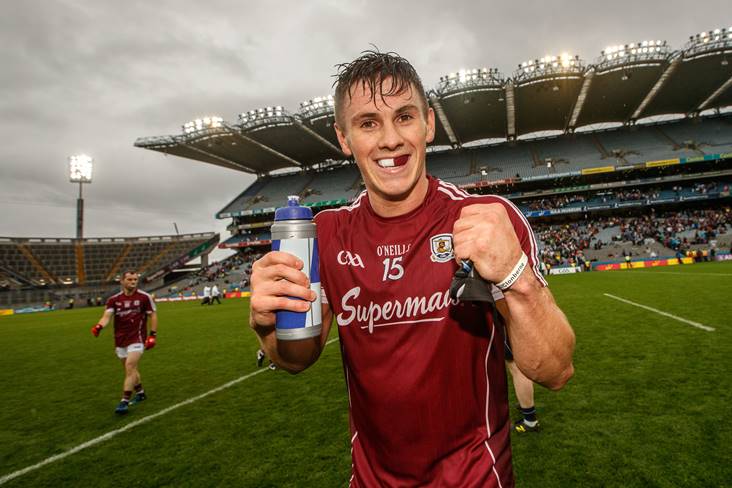 Galway's Shane Walsh celebrates after his side's All-Ireland SFC quarter-final phase 1 victory over Kerry at Croke Park.
©INPHO/James Crombie.
Here's our standout performers from the opening round of the new All-Ireland SFC Super 8 quarter-finals which saw wins for Tyrone, Dublin, Monaghan and Galway...
1. Mark Donnellan (Kildare)
Another clean sheet from the big Maynooth custodian.
2. Eoghan Kerin (Galway)
A typical tigerish display from Eoghan who is now celebrating three years on Kevin Walsh's panel.
3. Frank McGlynn (Donegal)
No stand out full backs last weekend but long serving, long running Frank has to get his place on the team.
4. Tiernan McCann (Tyrone)
The usual Rolls Royce performance from Tiernan.
5. Karl O'Connell (Monaghan)
The best player on the field. Terrific engine and shot three fine points.
6. Peter Harte (Tyrone)
Pure class. Could play this man in any position. Way above anything Roscommon had to offer.
7. Sean Kelly (Galway)
Part of a huge Moycullen representation. Only out of the under 21 grade and a performance his late dad, 'Dandy' would be proud of.
8. Niall Kearns (Monaghan)
The top midfielder on view and probably Monaghan's most improved player.
9. Brian Howard (Dublin)
Some terrific fielding and although listed elsewhere has all the hallmarks of a future Dubs midfielder.
10. Niall Scully (Dublin)
Per usual ran and ran and his brace of goals simply downed Donegal.
11. David Clifford (Kerry)
The only Kingdom player who really stood up to the Tribesmen. Best game yet in the senior green and gold for the 'Boy Wonder'. Shot 1-5, most with his weaker right foot.
12. Shane Walsh (Galway)
Had a terrible outing last summer against Kerry. Not a great first half but a classy second one. Tremendous speed.
13. Diarmuid Murtagh (Roscommon)
Looking at Saturday's performance, the only Rossie who would make it onto the Tyrone team.
14. Richie Donnelly (Tyrone)
Surely the find of the year. Just what Micky Harte was looking for. Led the Red Hand front line brilliantly.
15. Ian Burke (Galway)
The Tribesmen's best player. Kerry just could not pin him down. Shot a brace of points and behind most of his side's attacking moves.
Most Read Stories