Hyland would like to have played both
September 25, 2018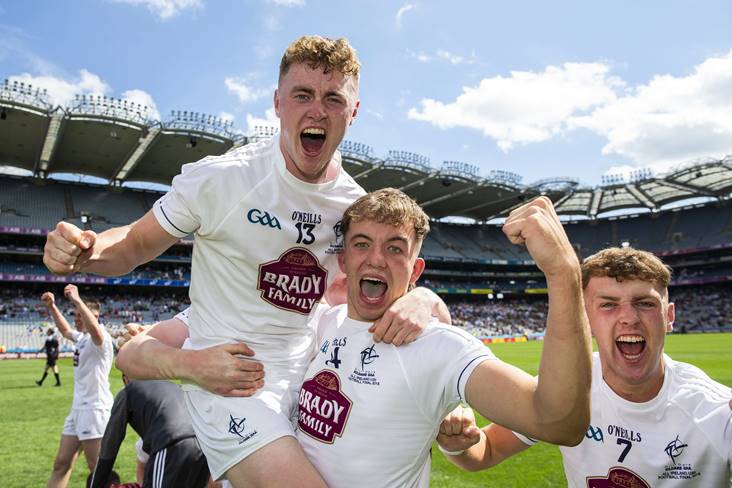 Kildare's Jimmy Hyland, Brian McLoughlin and Ruadhan O Giollain celebrate after the All-Ireland U20FC final victory over Mayo at Croke Park. ©INPHO/Gary Carr.
Jimmy Hyland admits he'd like to have had the opportunity to represent Kildare in both the U20 and senior football championships last summer.
A new rule introduced this year dictates that any player who plays in the SFC for his county becomes ineligible for the U20s, so Hyland didn't get the chance to tog out for the Lilywhites at senior level during championship season.
Instead, the Ballyteague clubman helped Kildare win the inaugural All-Ireland U20 FC and his efforts were rewarded again yesterday when he was named as the U20 Footballer of the Year.
"It opens up a whole lot of questions then if lads start picking up injuries if they're playing both," he told The Irish Independent. "Then you're in a bad place too like. I'd like to play… you would like to play both but I don't know, with player welfare and that I don't know how possible it all is.
"Like we played eight championship games this year with the U20s, that's a lot. We were playing matches… I think we could have played four or five weeks in a row like. So how would you manage to fit a senior game in there? I'm not too sure.
"It would have been hard but you would like to do both especially as they had been training with the seniors the whole year it was kind of hard…
"I was on two panels for the championship, I think it was the Derry match and Fermanagh match but the Fermanagh match was only to kind of make up the numbers, but you would like to play both."
Most Read Stories