Derry duo opt out
February 13, 2018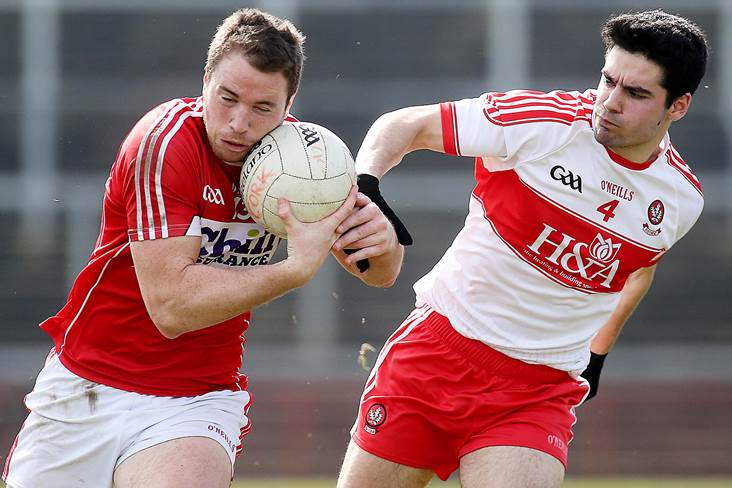 Cork's Colm O'Neill with Niall Keenan of Derry.
©INPHO/Presseye/Lorcan Doherty.
Derry have lost Niall Keenan and Ciaran McFaul for the remainder of the year.
Both men are going to head to the United States travelling in May and, even though they will still be at home for the remainder of the national league, it was agreed that they should quit the Oak Leaf panel with immediate effect as they won't be around for the championship.
"We have known for a period of time that both Niall and Ciaran had plans to travel in 2018," manager Damian McErlain confirmed in The Irish News. "Obviously it was disappointing to the management and players, however, we have to respect the wishes of Niall and Ciaran. They both would be a loss to any team in the country.
"Players make decisions at different stages in their lives and we have to accept that, challenging as that might be. Players travelling and taking time away is not unique to Derry football. It's part of life.
"Given the success of Slaughtneil we have had to manage the panel a particular way and after discussion with the two players we have decided this is the best decision for them, and Derry football at this stage. Niall and Ciaran are two honest, hard-working and capable footballers. They have been loyal servants to club and county for many years.
"We look forward to welcoming them back after their travels so they can be a part of what we are trying to achieve with the Derry senior football team in the coming years."
Midfielder Patrick Kearney has also quit the Derry county panel, according to The Irish News.
Most Read Stories