'Ireland lights up' with the GAA and Operation Transformation
January 17, 2018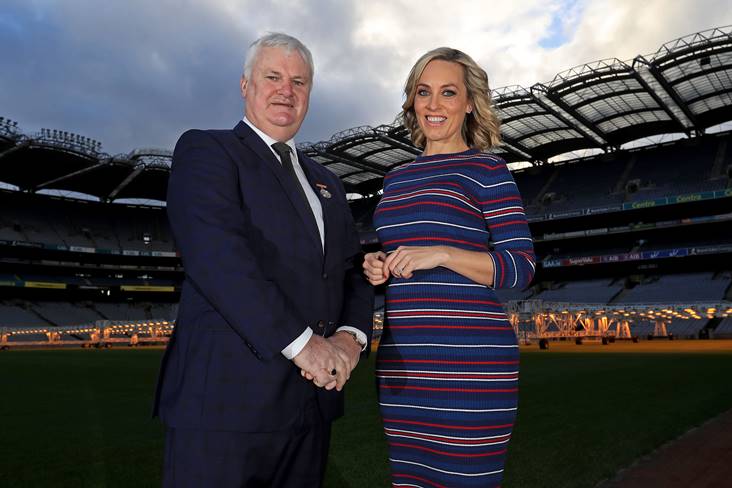 Aogán Ó Fearghail, An Uachtarán Cumann Lúthchleas Gael with Kathryn Thomas, presenter of Operation Transformation.
Tonight sees the launch on RTÉ One's Operation Transformation of Ireland Lights Up as Operation Transformation teams up with the GAA and Get Ireland Walking for a campaign helping communities across the 32 counties to enjoy healthy walks in the safe, bright, environs of their GAA club.
The aim is to provide a positive and beneficial resource for communities throughout the entire country. In a bid to make walking more accessible and safe for the masses almost 100 GAA clubs throughout Ireland will turn on the floodlights/lighting systems at their pitches for Ireland Lights Up, promoting both the physical and mental benefits of walking and exercise, as well as the fantastic facilities that local GAA grounds have on offer to people in their locality.
Interested clubs can sign-up at any point over the next six weeks by simply going to GetIrelandWalking.ie and following the Operation Transformation link to register their club. Of course all members of the community are welcome, not just GAA members, but participants will be required to register and sign-in each night.
GAA President Aogán Ó Fearghail commented: "The GAA is delighted to be partnering up with RTÉ's Operation Transformation and Get Ireland Walking to bring together communities across the 32 counties to enjoy healthy walks in the safe, bright, environs of their GAA Clubs. 
"This reinforces the work of our Healthy Club project and helps our clubs to become hubs for health in their communities. I'm looking forward to getting out with my own club in the coming weeks, who have already signed up to this great initiative."
Operation Transformation presenter Kathryn Thomas added: "I am thrilled that Operation Transformation and the GAA are teaming up with Get Ireland Walking and GAA clubs across the country to help people get out and about in a bright and safe environment.
"Get Ireland Walking is another great initiative helping people take charge of their own health and fitness and we are delighted to give it our full support."
Most Read Stories