Brolly labels RTÉ apology "false", calls McGuigan "wee s****"
December 07, 2017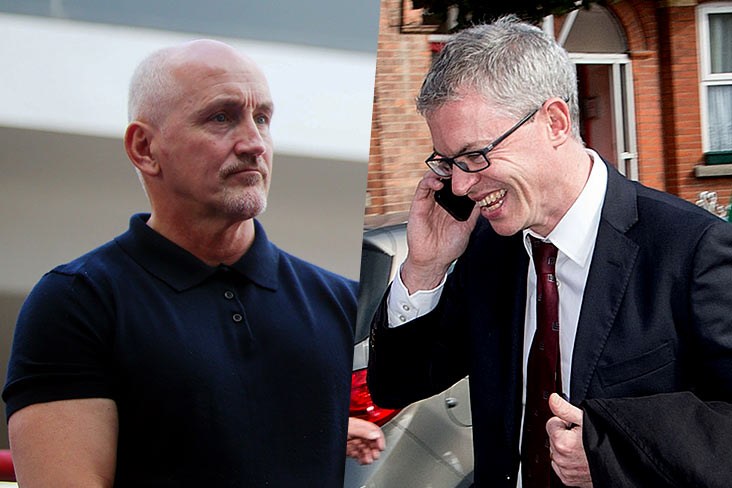 Barry McGuigan and Joe Brolly
Joe Brolly has described RTÉ's apology to Barry McGuigan for robust comments that both he and Eamon Dunphy made about the former pro boxer as "false".
Last month the two RTÉ pundits had appeared on 'Ireland's Greatest Sporting Moment' series to discuss the 1980s and find the country's single greatest sporting moment from that decade.
When considering McGuigan's triumph over Eusebio Pedroza in 1985, Brolly and Dunphy strongly argued against the Clones Cyclone's WBA featherweight title win, with the former Derry All-Ireland winner openly admitting that he had a dislike for McGuigan.
Host Des Cahill delivered an apology to "Barry and his legion of supporters" on behalf of the national broadcaster at the very start of the following week's show but it seems that Brolly is not in the same tune.
Speaking this week on 'The Stand' podcast, which is hosted by Dunphy, Brolly returned to the topic, saying that he and Dunphy's comments were "entirely fair".
"We're either interested in the truth and in the facts of things or we're in Rose of Tralee world where no-one says anything and where, for example, RTÉ apologise because you and I took an entirely fair, but robust view of Barry McGuigan," he said.
"I mean, apologising? And, of course, everybody knows the apology is false as well.
"Everybody knows, 'Well that's a false apology, obviously McGuigan has rung up to complain about this.' You know, the wee shite that he is."
Listen to the full conversation here: 
Most Read Stories