What the they said … the weekend in quotes
April 23, 2018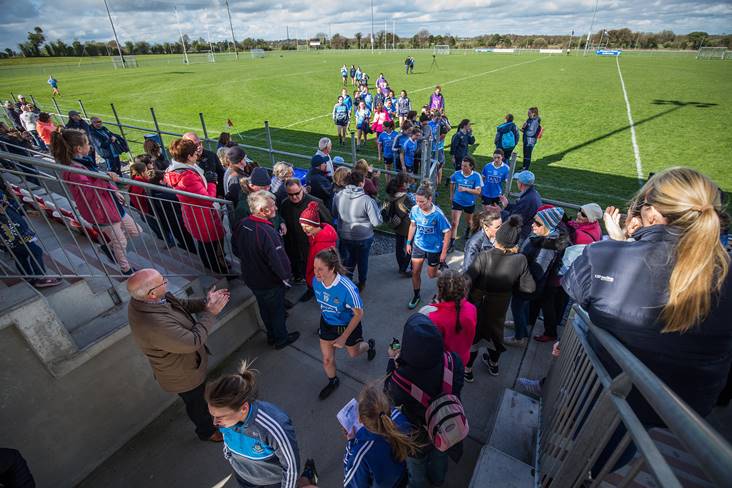 Dublin leave the pitch after their Ladies League Division 1 semi-final victory over Galway at Kinnegad.
©INPHO/Oisin Keniry.
"I'd certainly love to go back and play for my county. You play for where you are from and, unfortunately for me, where I am from is a pretty small part of the country. I'm not sure I see us winning All-Irelands any time soon. But, I do want to go back and play at the top level for my county."
After reaching the 150 AFL game milestone, Zach Tuohy revealed he has unfinished business with Laois.
"Diarmuid is just resting at the moment and obviously it would be great to have him back come the Championship. Diarmuid's record speaks for itself and he's such a talented footballer and has performed on the big stage on many occasions."
Dean Rock hopes that the Dubs will be able to call upon the services of Diarmuid Connolly as they aim for an All-Ireland SFC four-in-a-row.
"Now that we've won it, now that we've tasted it, we have to maximise that opportunity both commercially and on the coaching side through under-age. Yes, there's been a massive hit, young fellas everywhere with hurls. So now there's this huge interest and these kids have modern-day heroes. But we have to put everything in place to take advantage of that."
Micheal Donoghue doesn't want Galway to be one hit wonders.
"I love playing the Dubs - Mick (Bohan) and myself will go at it on the line as well. Ken Robinson is a close friend of mine and Ken's on the line for them as well. Dublin taught us a lesson in last year's All-Ireland final but our goal was never to win a League. It's very important for them (Dublin) to win a League."
Mayo ladies manager Peter Leahy is relishing the prospect of taking on Dublin in the league final.
"We're not entirely happy with that performance. At least we're in a very, very opportunistic position where we get to go away for a few weeks and work on everything that let us down in that match going into the final."
Substitute Nicole Owens saved the Jackies' skin in their semi-final clash with Galway.
"Sometimes systems and tactics go out the window. It's about character sometimes, and you can't pull that off a shelf. You can't buy that in a shop. These boys showed great character today. Listen, we'll enjoy this, but the big effort for us next week is Cavan."
Derry secured an extra-time U-17 victory over Monaghan and manager Paddy Campbell hailed the character shown by this team.
"Both Damien and Jason are very deserving winners who have demonstrated great leadership and drive whilst playing with Galway and Tipperary respectively. We look forward to seeing more of the same from both men in this summer's championship."
GPA Chairman and acting CEO Seamus Hickey sung the praises of GAA/GPA Player of the Month for April winners, Damien Comer and Jason Forde.
Most Read Stories