SFC: Kingscourt's first-half goals sink Lavey
August 13, 2018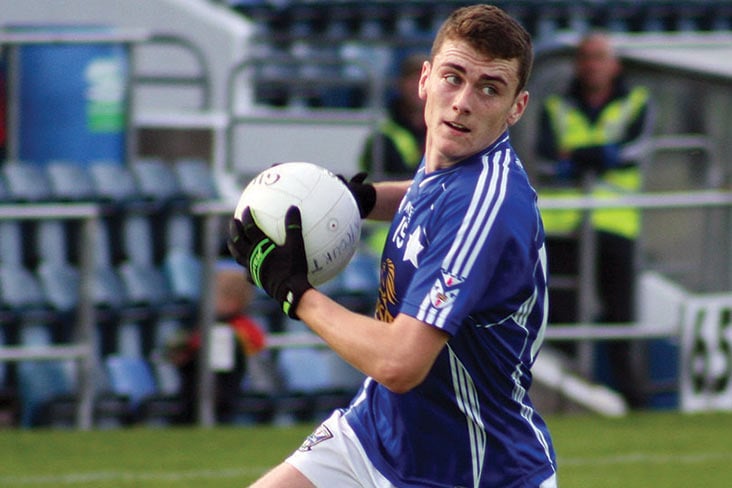 Kingscourt's Peter Corrigan
Kingscourt Stars 3-8
Lavey 0-14
Kingscourt Stars made the most of their first-half goal chances to kick off their senior championship campaign with victory over Lavey at St Anne's Park, Bailieborough.
The Stars struck for three goals in the opening 21 minutes to leave their New Inns counterparts playing catch-up throughout this repeat Round 1 encounter from two years ago.
The converted majors had the Meath border men leading by 3-4 to 0-7 at the half and while Lavey cut the margin to three late on they couldn't make any further inroads before time ran out of them.
Kingscourt had 1-1 on the board after just four minutes thanks to Padraig Faulkner backing up Barry Reilly's point with a well-taken goal to rock the men in black and white hoops.
Joe Dillon had the ball in the Lavey net two minutes later and when Shane Duffy's point cancelled out one from Daire Tierney at the far end, it was the town side that led by 2-2 to 0-2 with only seven minutes on the clock.
Frees from Chris Conroy and Shane Tierney outweighed a superb point by Barry Reilly and Conroy's first from open play made it a one score game again until Lavey's full-back line got caught out for on a third occasion.
This time it was corner-forward Duffy that applied the cool finish after Dillon had been denied the green flag by a fine save.
Robbie Rowntree and Shane Tierney traded points which closed the half, leaving Lavey with plenty of food for thought as they went in trailing by an even half dozen.
Duffy, Reilly (45) and Philip Tinnelly tightened Kingscourt's grasp on the points within five minutes of the resumption and despite a brace from Darren Jordan in response, Lavey were left with a mountain to climb in the closing quarter.
To their credit, they chipped away at their opponents seven-point lead with points from Shane Tierney, Paul Gilcreest and Conroy (free).
This time round, the Stars couldn't come up with an accurate response and more white flags from Jordan and Conroy (free) in the closing five minutes made for a nervy finish but, in the end, the champions of three years ago did just enough.
Next up for Kingscourt is a Round 2 date with Lacken next weekend while Lavey face Ollie Fay's Ballinagh side.
Earlier today, Crosserlough welcomed Shercock to the senior ranks with a 3-18 to 1-10 hammering, having led by nine points at half-time in Lavey.
The Kilnaleck side play Cootehill next weekend while last year's intermediate winners must take on Gowna.
Most Read Stories