HL 3A / 3B round-up: Wee County into final
March 11, 2018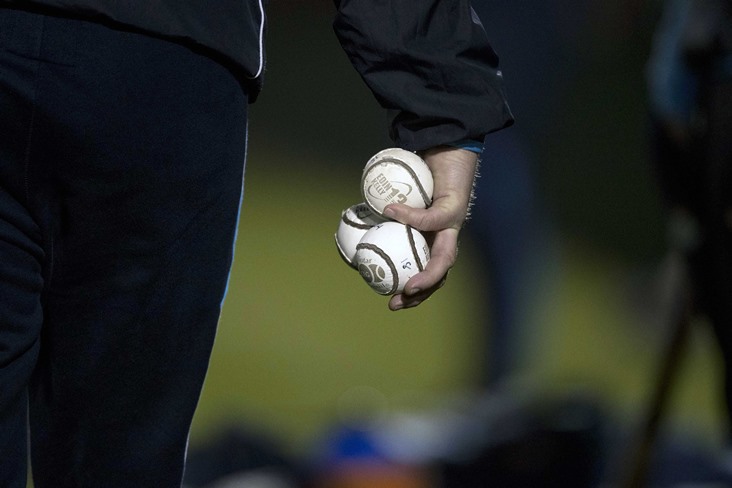 Kildare, Offaly and Westmeath pick up wins in the Leinster minor hurling championship
Louth will face Warwickshire in the 3A final after battling to a 1-13 apiece draw with Monaghan in Castleblayney.
The Wee County's second draw of the year saw them finish level with Tyrone in the final standings, with six points each, but they sneak through on the head-to-head rule. Niall Arthur supplied all but four points of the Louth tally today.
Table-toppers Warwickshire - who were already through - defeated Roscommon by 1-23 to 3-10 in the early throw-in at Dr Hyde Park, while the Red Hands won away to pointless Longford, 2-21 to 1-14.
Lancashire and Leitrim will contest the 3B decider, meanwhile. The Exiles had already completed a perfect campaign, with four wins from four, before today's Round Five fixtures in the section produced victories for Leitrim and Sligo.
Leitrim were far too strong for Cavan at Carrick-on-Shannon (6-21 to 3-7), while the Yeats County recorded a 3-13 to 0-15 success on the road against Fermanagh.
Monaghan - P Bermingham; J Guinan, K Crawley, B Flanagan; N Garland (0-3), P Finnegan, M Murphy; M Treanor (1-0), P Treanor; F Rafter (0-8, 7f), A Kenny, S McNally; C McNally (0-1), E Collins, B McGuigan (0-1). Subs: P McGahan for S McNally, C Boyle for C McNally.
Louth - S Hackett; M Wallace, M Lyons, C Matthews; S Kettle, R Byrne (0-2f), A McCrave; D Ryan, M Molloy (0-1); N Arthur (1-9, 0-5f), G Arthur, G Smyth (0-1); S Conneely, S Callan; P Lynch. Subs: P McCormick for P Lynch, D Murphy for C Matthews, P Matthews for S Conneely, J Crosby for G Smyth.
Referee - A Devine.
**
Warwickshire - C Robbins; D Bruen, A Downey, M O'Regan; P Scally, P Hoban (0-2f), D Kennedy; J Collins (0-1), S Caulfield (0-1f); N McKenna (1-10, 0-5f), P Uniacke (0-1), G Lennon (0-2); I Dwyer (0-3), D Nugent (0-2), C McBride. Subs: K McGee (0-1) for P Scally, K Boxwell for C McBride, T Kelly for A Downey, P Crehan for I Dwyer.
Roscommon - J Keane (0-1f); P Nolan, P Kellehan, A Moore; J Kilkenny, P Kenny, M Beirne; K Hardiman, S Curley (0-6, 2f); D Glynn (0-1f), C Kelly (1-2), N Connaughton (1-0); R Fallon (1-0), K Egan, J Murray. Subs: E Flanagan for D Glynn, W Boyle for J Kilkenny, D Heavey for M Byrne, J Brennan for J Murray, G Egan for K Hardiman.
Referee - S Hynes.
**
Tyrone - C McElhatton; C McNally, B Begley, R Devlin; L Devlin, C Kearns, P McHugh; D Begley, C Cross; D Casey (0-15, 7f, 1'65), P O'Kelly (1-2), P Daly (0-1); B McGurk (1-1), A Kelly, R McKernan (0-2). Subs: S Muldoon for L Devlin, J Kelly for C Cross, C Lagan for S Muldoon, T Morgan for C Kearns.
Longford - E Daly; S Hannon, G Moore, P Corcoran; K Murray, D Duggan (0-1), A Sheridan; B Hanley, C Kavanagh; J Casey, J O'Brien (0-12, 10f), N O'Connor; P Walsh (1-0), J Mulhern, R Murray. Subs: P Barden for N O'Connor, PJ Masterson for C Kavanagh, C McLoughlin for A Sheridan, S O'Brien (0-1) for R Murray, M Howlin for J O'Brien.
Referee - J Connors.
**
Leitrim - D Molloy; K McGrath, C McCrann, P Earley; E Moreton (0-1), C Byrne (0-1'65), N McLoughlin; J Glancy (0-1), L Moreton; B Murray (0-1), K McDermott (0-1), D McGovern; C O'Donovan (0-5, 1f), C Cunniffe (4-6, 0-4f), Z Moradi (2-4). Subs: D Ryan for K McGrath, K Clerkin for C Cunniffe, T Clancy for C McCrann, J McNabola (0-1) for B Murray, P Poniard for D McGovern.
Cavan - D Sheridan; M Moffatt, M Hayes, C Kelly; R O'Hagan, P Sheridan, E Hill; D Crudden, S Keating (1-6, 0-3f, 0-1'65); F Hughes, N Browne, J Crowe; E Magee, A Sheridan, P Brady. Subs: C Wall (2-1) for D Crudden, R Everett for M Moffatt, M Sexton for N Browne, N Clerkin for D Sheridan.
Referee - L Gordon.
**
Sligo - L Comerford; T Brennan, C O'Mahony, M Comerford; J Weir, D Collery, D Keown; E Comerford, G Cadden; J McHugh, R MacNamara, B Shannon; K Gilmartin (1-7, 0-4f), T O'Kelly Lynch (2-0), K Banks (0-4). Subs: A Morrison for M Comerford, E McDonagh (0-2) for B Shannon, C Jordan for J McHugh, R Brennan for R MacNamara.
Fermanagh - C McTeague; D Russell, M Slevin, A Breslin; C Rafferty, M Teague, D Bannon; J Duffy (0-5, 3f), R Bogue (0-1); A McShea, JP McGarry (0-2), S Curran (0-6, 4f); T Cleary, F McBrien (0-1), B Duffy. Sub: B McPhillips for T Cleary.
Referee - J Keane.
Most Read Stories