What they said … the hurling weekend in quotes
April 02, 2018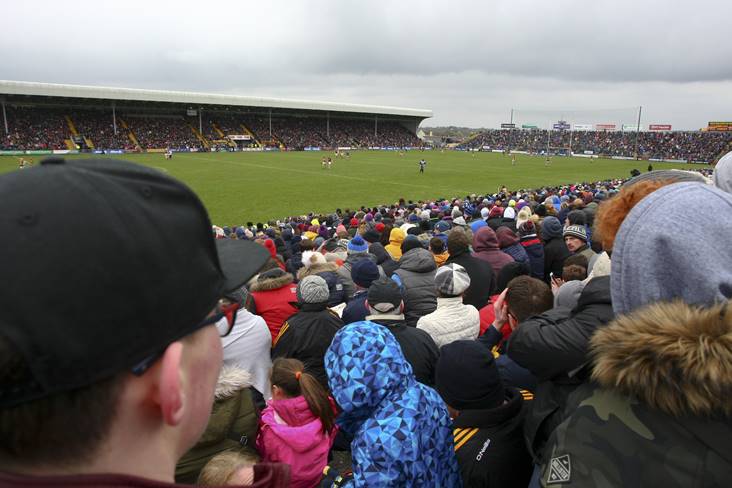 Fans watch the action from the 2018 Allianz HL Division 1 semi-final clash between Wexford and Kilkenny at Innovate Wexford Park.
©INPHO/Ken Sutton.
"We lost the first two games by three points. Potentially we could have won one or both of those two games. I'm not saying we should have but we were in a position where we might have. Three points is not a big losing deficit by any means. Obviously, we were tipped very strongly to be playing a relegation battle. But our ambition wasn't to do that of course."
After being tipped as potential relegation candidates at the start of the campaign, Brian Cody and the Cats will contest this year's league decider against arch rivals Tipperary.
"I'm just so disappointed for the Wexford supporters I feel we let them down. I don't say that too often but that's how I feel and I said it to the boys inside, they know it themselves. They feel terrible. I can promise you there isn't that much between ourselves and Kilkenny."
Davy Fitzgerald wasn't happy with his team's display against the Cats.
"That was fantastic drama, right to the end. Only the puck of a ball in it. That game could have gone either way. We looked to be in a goodish position when the second goal went in, but Limerick in true Limerick style, came back at us again."
Michael Ryan and Tipperary came out on the right side of an epic semi-final encounter against Limerick on Saturday evening.
"The fact is that we can mix it with the best of them now and we know that. It gives them mental strength and psychological strength to know that they can keep coming back and coming back. You can't buy that, you have to experience that and come through it."
The Treaty County will be a force to be reckoned with in the summer, according to John Kiely.
"It's a great honour for them to go out with an All-Ireland medal in the pocket."
Tom Hogan masterminded a 22nd All-Ireland Schools success for St Kieran's College at Semple Stadium on Saturday at the expense of Presentation College Athenry 
"It took everything for us to get back level, but they were very good and just finished the game stronger. They are a top quality outfit and the standard in this is extraordinarily high."
Presentation manager Michael Finn took his hat off to the winners.
Most Read Stories