Ryan eager to get started
March 28, 2018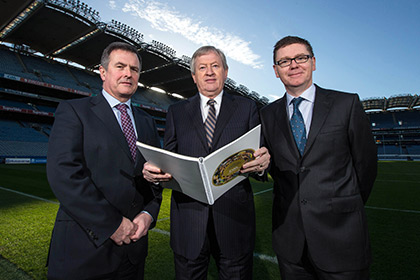 Peter McKenna, Commercial and Stadium Director of GAA/Croke Park, Páraic Duffy, GAA Ard Stiúrthóir and GAA Finance Director Tom Ryan at the GAA Finance Report Media Briefing in Croke Park. INPHO
New GAA Director General Tom Ryan admits that he is looking forward to starting the role.
For the past eleven years, Ryan has been the GAA's Director of Finance, but at the end of the month, the Carlow native will step up to the Director General's position, which will be vacated by the retiring Paraic Duffy.
Speaking to the Carlow Nationalist, Ryan stressed that he was passionate about the GAA following the news that he had been the chosen candidate ahead of former GAA President Liam O'Neill and former Tipperary All-Ireland winning manager Liam Sheedy.
"I am really looking forward to it," said Ryan. Pleased and honoured are probably not words you would use. It is what you do with the job when you get it. I don't want it to be congratulatory. It is great opportunity.
"I am interested in it far more that what I am doing, which was the financial aspect of it. Far more interesting are the games themselves. Without having a specific eye on it and a specific job it was always about trying to expand what you are doing and taking an active role in other things."
Most Read Stories