What they said ... the weekend in quotes
September 24, 2018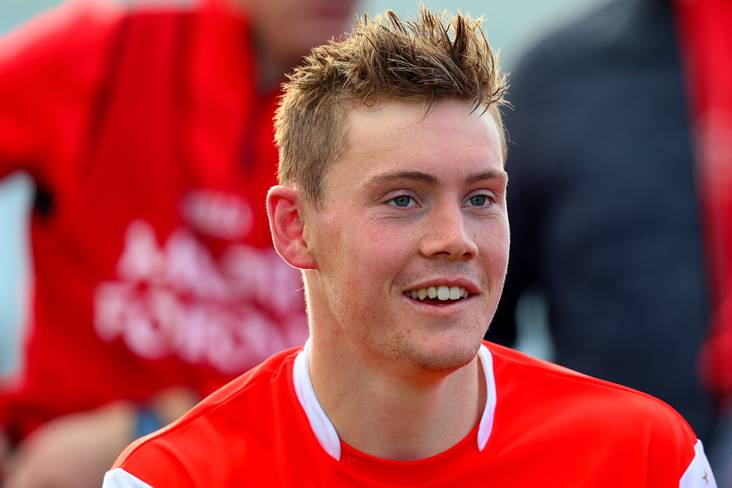 Cuala's Con O'Callaghan after the Dublin SHC quarter-final victory over Lucan Sarsfields at Parnell Park. ©INPHO/Oisin Keniry.
"The word is they have to meet in the coming week or two and sit down and agree a process going forward. So, it's early doors yet but I suppose our concentration today was trying to get Cuala over the line."
Cuala manager Mattie Kenny's name features prominently in speculation relating to the Dublin senior hurling job vacancy.
"The other counties will have to do a lot of work to catch up with Dublin. They are playing wonderful football. They can play the short game and the long game. They have it all and a wonderful panel of players."
Kerry legend Mick O'Dwyer expects Jim Gavin and Dublin to go one step further than his great Kerry team and achieve the five-in-a-row in 2019.
"The CCC was satisfied that the referee was well-positioned, in clear view of the incident, and adjudicated on the matter appropriately. Tyrone GAA takes the opportunity, again, to wish its former senior football team captain, Sean Cavanagh, a speedy recovery from the injury that he sustained."
The Edendork player involved in the incident that left Sean Cavanagh with a broken nose and facial injuries has been exonerated by the Tyrone CCC following an investigation.
"He has been telling everyone on the telly how to get it right – now the ball's in his court. The pressure is on, he has been an expert and we all wish him well, because if things don't start to go right, we could be out of the game for a while."
Can Liam Sheedy lead Tipp to Liam MacCarthy glory? Babs Keating says the pressure is on Michael Ryan's replacement.
"The future of Dublin camogie is considerably bright. It has been my great honour to contribute to the development of this wonderful group of players, who are bound for even greater glories in years to come."
David Herity stepped down as manager of the Dublin senior camogie side.
"Fair play to Joe for saying something nice about me! No, I have the utmost respect for Joe – he has done a lot for GAA in the country. Sometimes he goes after Kerry which isn't why I'm most fond of him. That's why I took such offence to the article in 2014 because I thought he was a champion of mine."
Recently retired Kerry star Kieran Donaghy revealed his respect for Joe Brolly on The Late Late Show.
"I thought I'd get away without talking about Joe but it's the only question that anyone asks me! What's Joe Brolly like? That's the only question I get. Do we go for pints after? Do we socialise? No. Are we friends? No. We are acquaintances. We go in, we do a job and we move on."
Brolly was also a topic of conversation with his fellow Sunday Game pundit Pat Spillane.
"Mick Bohan is a brilliant manager and he has played a massive part in helping us to win the last two All-Irelands. But I can well understand the Roscommon County Board being interested in trying to get Mick in as manager of their men's team."
Dublin star Carla Rowe hopes two-in-a-row All-Ireland winning manager Mick Bohan won't be tempted to take on the Roscommon senior football position.
"I think that's something they need to look at. Maybe a tax break? Or maybe a two or three-month period of the year where players are able to go part-time, and they're given much better expenses to play games. The further they go, the more expenses they get."
Following the publication of the GAA/GPA research into the demands of playing inter-county football and hurling last week, Dublin's Philly McMahon suggested that players should receive some sort of financial support.
"The timing is unfortunate. There is no doubt about that. The overall finances in Galway GAA are in a solid state and things are improving. I think that will be evident this year at the county convention when the county treasurer presents the financial report for the year."
Galway are on the lookout for new full-time secretary after Sean Hynes announced his decision to quit the post last week.
Most Read Stories