McKenna dreams of a Premiership and All-Ireland double
August 23, 2017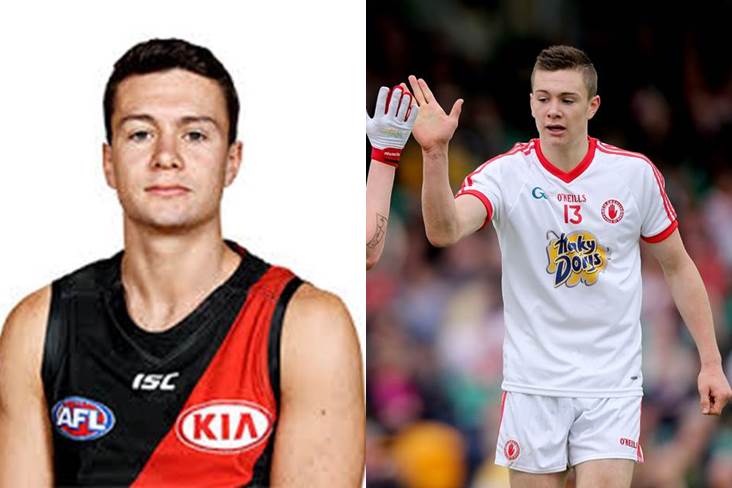 Conor McKenna in the Essendon and Tyrone colours.
Conor McKenna has no regrets over his decison to swap gaelic football for Aussie Rules.
The 21-year-old from Tyrone has made quite an impression in the oval ball code with Essendon who are one game away from a top eight finish and place in the AFL finals.
A video clip of a goal he scored against Gold Coast Suns last weekend illustrates how well he has adopted to the oval ball code since heading 'Down Under' three years ago.
"I haven't really struggled with homesickness too much since the early days," he explained in an interview with The Irish Independent.
"There are obviously still times when you'd be missing family and friends.
"It is a little bit tough to watch (the seniors). It was very hard to see the U-21s win the All-Ireland in 2015 too. I would have played with a lot of those lads at underage level."
McKenna regularly meets up with Ciaran Byrne of Louth and Westmeath's Ray Connellan who are with Carlton and St Kilda respectively.
"It's a great help having so many other young Irish lads around Melbourne. We meet up every week or two to just chat away, have a pint, and watch a match or whatever. Having that network is great."
The 2014 Tyrone minor captain hasn't ruled out returning to the Red Hand jersey at some stage in the future.
"I'm still thinking about returning one day, I just don't know when.
"Ideally I'd like to do what Tadhg Kennelly did and win a Premiership out here and go home and win an All-Ireland in Croke Park, that would be unbelievable."
Most Read Stories