Irish target Grand Finals at Aussie Rules World Cup
August 15, 2017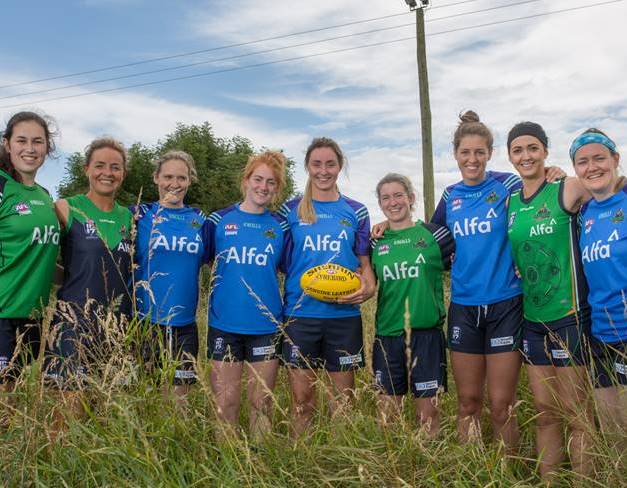 Members of the Alfa Irish Banshees
Both the Irish men's and women's national Australian Rules Football teams are three victories from three outings at the 2017 AFL International Cup currently being played in the state of Victoria, Australia. 
This is the sixth AFL International Cup, a tournament for all Aussie Rules playing nations outside of Australia, with this edition seeing 18 men's teams and 8 women's teams competing from all over the globe.
The women's team, the Alfa Irish Banshees who won the 2011 tournament and were runners-up to Canada in the last edition in 2014 have been impressive to date with wins over USA Freedom, the European Crusaders and Papua New Guinea Flames.  These wins mean they top their pool and now play Great Britain Swans in Tuesday's semi-finals in Royal Park, Melbourne.  If they can overcome the British they will then play their Grand Final in the Etihad Stadium in Melbourne on Saturday afternoon prior to the Carlton v Hawthorn men's AFL game that could also feature several Irish players including Derry native Conor Glass. 
The Banshees have been impressive in their games to date with a mixture of Irish and Australian based players taking to the ovals.  In their ranks is the only non-Australian woman playing in the women's AFL league, Laura Duryea (nee Corrigan) originally from Cavan.  Laura wears the late Jim Stynes number 11 for Melbourne Demons and has been impressive in defence to date.  Former county Down ladies Gaelic footballer Clara Fitzpatrick has also played an important role in the ruck and she could join Duryea in the women's AFL next season.
The Irish Warriors, the men's national team have also been impressive to date.  After a hard fought opening day victory over tournament favourites Papua New Guinea, they then recorded wins over France and old rival Great Britain to set up a tilt at the Grand Final to be played in the iconic Melbourne Cricket Ground next Saturday prior to the Geelong v Collingwood men's AFL game. 
On Tuesday they need to beat New Zealand Hawks who are also three wins from three, to guarantee a Grand Final for the third consecutive International Cup.  Notable performers for the Warriors so far include former AFL listed Padraig Lucey who spent two seasons with Geelong Cats.  A fellow Kerryman, Michael Finn who is acknowledged as one of the best club footballers in Australia, has been influential, especially in defeating the Great Britain Bulldogs on Saturday. Eligibility rules mean no current AFL listed Irish men can play in the competition.
Keep up to date on the team's progress on the Australian Rules Football League of Ireland website www.arfli.com and the tournament website http://www.afl.com.au/internationalcup, where all upcoming Irish Banshees and Warriors games will be streamed live.
Most Read Stories