10 Years of Gaelic Football in Vietnam
May 02, 2017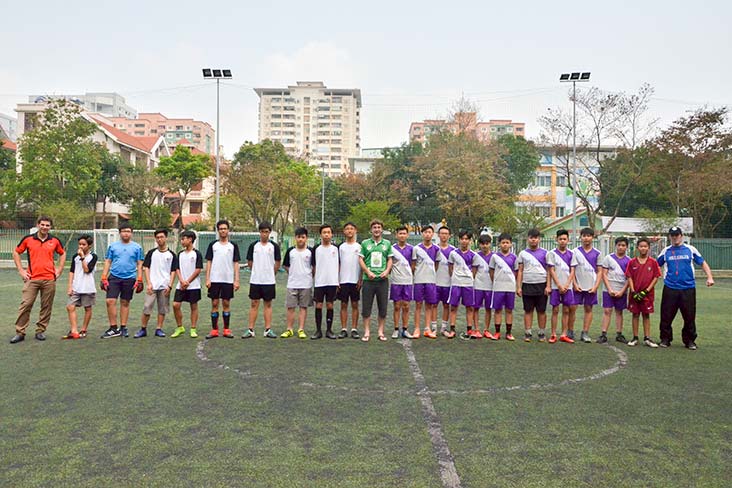 Parade of the teams before the game with Coaches John Shoulders, David Cunningham and Jim Kiernan
VAS Hanoi   8.12 (36pts)
SIS Gamuda 8.08 (32pts)
On the occasion of the 10-Year Anniversary of the foundation of the Viet Celts and hence the arrival of Gaelic Football in Vietnam, SIS Gaumda and VAS Hanoi fought out a very attack orientated game in the My Dinh Youth Cup. There are as yet no blanket defenses on the Gaelic Football fields of Vietnam.  The prize on offer was the Viet Celts 10 Year Trophy.
After a quiet game in the Gamuda City Cup the week before, Kim Ji Woo was back on form with some cracking goals that left the VAS Hanoi keeper with no chance.  It was a great performance overall from SIS Gamuda and they had strong contributions from all sectors of the field.
Two standout performers for VAS Hanoi were Vu Minh Hieu with a master class in high fielding and Vu Duc Dat who always managed to find space for scores in what was at times a fast breaking SIS Gamuda defense. In a very close game, SIS Gamuda nearly took away the spoils in the end but VAS Hanoi just about held on. Both coaches, John Shoulders (SIS Gamuda) and Jim Kiernan (VAS Hanoi) can be very proud of their charges.
Thanks to referee, Luke Kenny who officiated a free flowing game and also Rowena Barnett and David Cunningham who looked after the ceremonial side of the event. Special mentions must go to the Irish Embassy, the Asian County Board, DFAT, the GAA, the Global Games Development Fund and O'Neills for their vital support of the Viet Celts Schools Gaelic Football program.
Later on that day, the Irish Ambassador to Vietnam, Cáit Moran  and Viet Celts club members came together for an evening of reminiscing in the Polite Pub, Hanoi where the Viet Celts were founded at a famous GAA meeting ten years before on 4 April 2007. The Viet Celts are based in Hanoi and the Polite Pub is the Hayes Hotel of the Viet Celts.
The club also received two very elegantly written letters of congratulations for the 10-Year Anniversary, one from the Ambassador and one from the Chairman of the Asian County Board, Joe Trolan.
Next up for the club is the All Vietnam Schools Cup hosted by the Viet Celts in Hanoi on 6 May. This will be followed by the South Asian Gaelic Games in Ho Chi Minh City on 20 May hosted by fellow Vietnamese GAA club; the Saigon Gaels (founded 2011). The South Asian will feature Gaelic Football and Hurling.
Most Read Stories