Ó Sé: If it wasn't Tadhg it would be someone else
December 24, 2016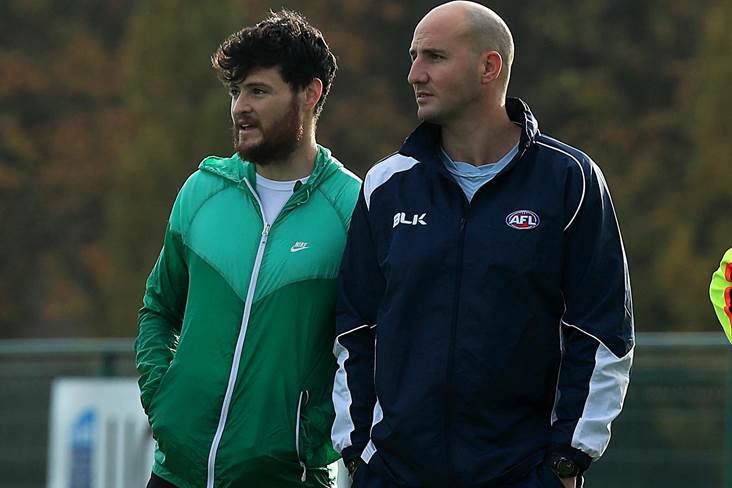 Marty Clarke and Tadgh Kennelly look on during an AFL Talent Combine in UCD.
©INPHO/Donall Farmer.
Kerry legend Tomás Ó Sé says he's sick and tired of AFL clubs pursuing his county's top footballing prospects.
The five-time All-Ireland winner won one of his Celtic Crosses alongside Tadhg Kennelly - the AFL's International Recruitment Manager - but believes it's the GAA that should be doing more to make sure their best players stay at home.
The Sunday Game panellist also added that swapping home for Australia would have had no appeal to him in his younger days. 
"I don't like it - the way they just saunter in, take our best players and there's nothing we can do about it," Ó Sé told the Irish Daily Star.
"Tadhg has a job and a role. He is a Kerry man. Yes it does make me kind of pissed off about it. There's talk of (David) Clifford, who could be targeted. It's a pity to spend so much time cultivating and making him what he is today, just to be taken away. I know for a fact a life abroad would have had no appeal for me. I'm a home bird.
"Winning All-Irelands is what it's about. You'd want that they want themselves to stay around and win All-Irelands for Kerry.
"I wouldn't agree with it. I think it's wrong. It's a pity the best players are being taken off to Australia. Now, in Kerry, we have been hit with Tadgh himself, Tommy Walsh - Mark O'Connor is the latest guy.
"If it wasn't Tadhg it would be someone else. It's a pity. I know fellas chomping at the bit to get over there. My attitude is there is nothing bigger than Kerry. A lot mightn't be too happy possibly, and I understand that. Tadgh has a job to do."
Most Read Stories