Tribute to a great GAA man
January 22, 2021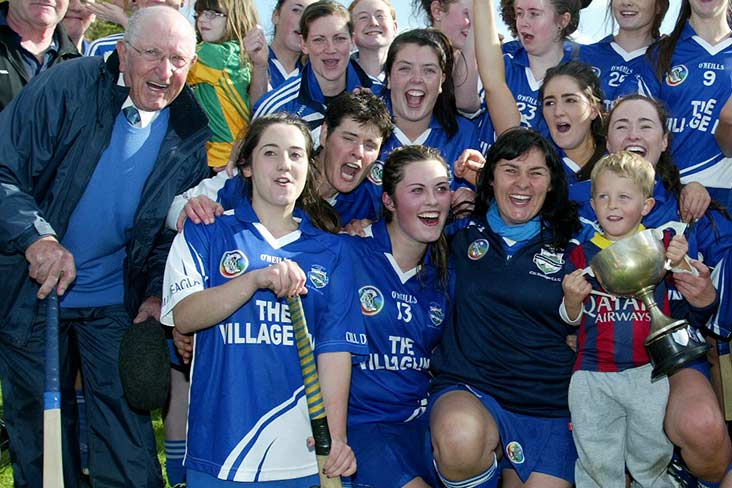 The late James Carroll enjoys Kildalkey's win over Boardsmill in the 2014 Meath Intermediate camogie final
It is a privilege to share the Eulogy from the Carroll family.
James Carroll.
Firstly our family would like to thank everyone for the great support over this past few difficult days.
We would also like to express our sincere thanks to the staff of St Elizabeth's Nursing Home for the great care they gave to Jim. The family cannot thank you enough for the all encompassing loving care you bestowed on Jim during his time with you. The family have been overwhelmed with the messages of condolences over the past few days and want to express their gratitude to neighbours and friends far and near who have contacted them.
A little bit about Jim and his great life.
Jim came to live in Dublin when he was 16 years old, along with his brother Paddy, who was 15. He had found a job as an apprentice bar man and lived in lodgings in Marino. The apprenticeship was for seven long years. In those days Jim and Paddy went home just once a year when the pub was closed at Christmas. Six of the Tipp lads living in Dublin would hire a taxi together to get home for Christmas - six of them squeezed into the taxi. Jim and Paddy saved hard and eventually afforded the luxury of their own transport. This took the form of a motor bike, a BSA, 350cc considered a big bike back in the day. Come Christmastime the two lads would stuff newspaper down the front of their chests to keep out the cold and brave the elements on the bike journey back home to Tipp.
One of Jim's earliest memories as a young bar apprentice was having to turf Brendan Behan out of the pub as he, Behan, had a terrible habit of drinking other men's pints and that caused great murder in the pub.
Jim became a member of Faugh's hurling club and won a couple of Dublin senior hurling championships. He also played for Dublin hurling - his days were filled with work and hurling. When the time came he got married to his beloved Tess and they bought their first house next to Croke Park - Padraig and Tommy's earliest memories are of being hopped over the turnstiles for the hurling matches. Hurling was in the blood.
In later years the family moved to Beaumont and therefore their club became Whitehall Colmcilles - he was very heavily involved in every aspect of the club and of course the boys were active members also. Jim found it very hard to give up playing senior hurling - in fact he promised Tess he had given it up. However what Tess didn't know is that Jim stayed actively playing - both Padraig and Tommy were sworn to secrecy not to tell their mother and she would never have found out if it hadn't been for the belt of the sliothar in the eye he received during a match. Jim had to return home hoping that Tess would not notice that he had nearly lost his eye despite having to go to hospital and being kept in overnight!
The boys have great memories of Jim and how great a father he was to Padraig, Tommy, Colleen and Doirinda. How as children he and Tess would pile everyone into the car and head off to picnic in the Dublin Mountains and Donnabate Beach along with the bags full of soggy tomato and lettuce sandwiches. The children were convinced that the Sally Gap was a different country each time they went there.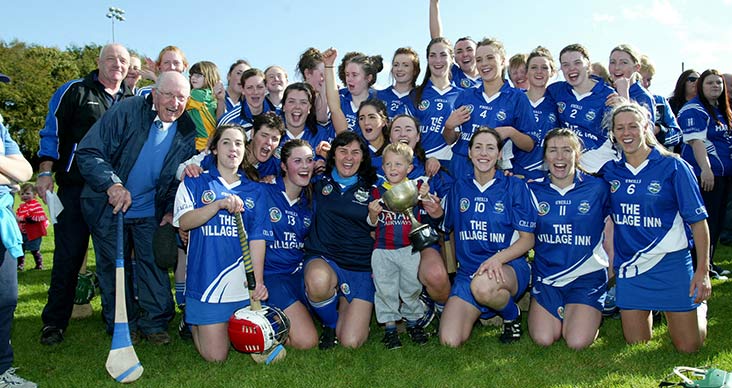 Kildalkey Meath Intermediate Camogie Championship winners 2014.
Jim never stopped, he was always doing something around the house in the form of DIY. Many's the time the boys remember him on rooftops of the homes they lived in repairing them. Jim was fearless, they tell the story of one such time when Jim used an extension ladder to get himself up onto the roof of the house only for the boys to see him slide backwards down the roof and land on his backside - all he did was laugh. He never got angry. Then there was the time he fell off the roof and broke his back only to be put in a brace for a year. But nothing stopped him - Padraig remembers having to ask Jim to stop climbing onto the roof in Kildalkey at the age of 84 but like the hurling and promising Tess he had stopped he did the same with climbing the roof - just pretended he had stopped. Jim could turn his hand to anything, hence the amazing craft of making and repairing Hurleys. He made them with great ease and was happiest in his latter years when the young camogie players and hurlers of the parish of Kildalkey ( Jim was a blow in of thirty years) came to see him to either have a hurley made or repaired. He loved his workshop and was an incredible craftsman. Jim possessed an incredible memory for hurling matches, hurlers, scores and statistics. In fact when he met one of his hero's at an event in Croke Park - Liam Sheedy - Jim had no problem correcting Liam's recount of a match statistic much to the amusement of the audience.
Jim was involved in Kildalkey hurling for years. However it was was with the camogie coaching that Jim found a new lease of life in his mid seventies. His family firmly believe that Kildalkey hurling and camogie Club extended Jim's life. Not just through playing the sports themselves but through the community that became an extended family for Jim. They had him participate in strictly come dancing at 85 and he convinced us all that he was the best dancer of the entire competition. The people of the club looked after him and ensured he was included and involved in every event the club held. Many's the Sunday when Jim ( at the age of 84) would recount stories of having been at a 21st the night before and getting home at all hours. He had a great social circle thanks to the club.
Jim's family want to express a sincere thank you to all those club members who at any time extended a hand of friendship and companionship to Jim. They will never forget the active kindness demonstrated to Jim. Included in these friends are the Keogh Sisters and of course his great Camogie buddy - Mary O'Halloran. Lastly but by no means least the family want to express enormous gratitude to Jim's great sparing partner Johnny Fagan - Johnny and his family have been true neighbours in every sense of the word. Come hail or shine they looked after Jim like family, and were there through thick and thin for him.
Jim will be very sadly missed by his loving sisters, sons, daughters, daughters-in-law, sons-in-law, Goddaughter, nieces, nephews, grandchildren and his five great grandchildren. Although they will each miss him enormously and each one has very loving memories of Jim, they are all equally grateful for the great life Jim lived every single day.
Ni bheidh a leithead ann aris, ar dheis Dé go raibh a anam.
The Carroll Family
Most Read Stories