Who exactly would a two-tiered senior football championship benefit?
July 11, 2019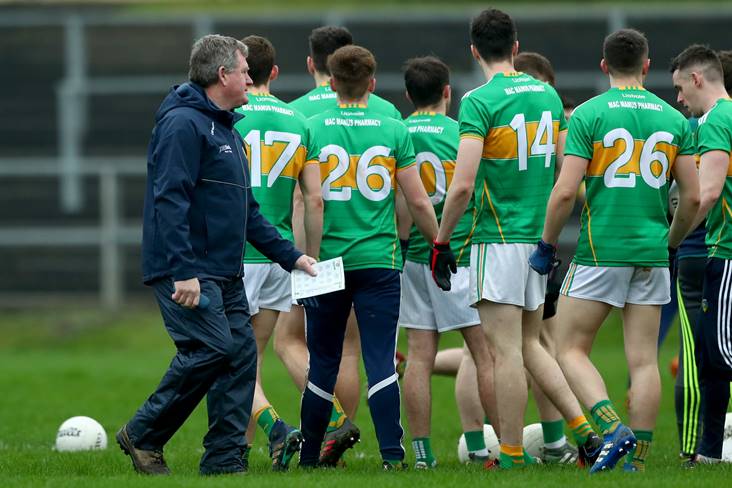 Leitrim's manager Terry Hyland. ©INPHO/James Crombie.
by Gerry Robinson
Evidently, a two-tiered intercounty football championship is imminent, but it certainly won't be a pill for every ill.
Advocates of tiering the SFC point to how it would give more counties a chance to compete for major silverware but, for starters, this simply isn't true as the new competition won't be a major one. It'll be effectively a second-rate championship, which will be treated as another second-class citizen on the packed GAA calendar.
There will be no attempt made to promote it properly. Because, let's face it, how do you promote a secondary competition? Look at the hurling championships (which are also offered forth as a great example of how a tiered system in football would apparently be best) for an example of how this works in practice as opposed to theory. The Joe McDonagh Cup final wasn't televised. The second-tier hurling championship is largely ignored (never mind the other three tiers) and the same would be the case in football. Do the powers that be not remember the Tommy Murphy Cup? Nobody cared about it.
The irony here is incredible: the best way to promote the weaker counties is to not promote them at all.
Proponents of the new "fairer" system argue that there are too many teams going into the championship without a chance of winning anything. Winning what exactly? The All-Ireland? One could counter claim that even if you took half of the teams out you'd still have ten or twelve with no chance! Also, in the second tier, at least half of the teams in there will have no chance.
So apparently it's all about the winning now. There's no point in having Offaly or Antrim or Leitrim in the senior championship any more if they can't win it or at the very least compete for it. When did this happen in our Association? Why the sudden need to remove the also-rans? To show them scorn because they lose more games than they win. To patronise.
Every county deserves the opportunity to go out and play in the main competition. It's a unique, historic characteristic of the All-Ireland. Naturally, when you get hammered by one of the big guns it's not ideal but at least there's the chance to play on that stage - an honour in itself.
And what's the difference between Derry V Westmeath in the second tier and Derry V Westmeath in the senior Qualifiers? The main difference is that it's a much bigger game when you're playing in the senior championship … irrespective of whether or not you can go on to win silverware later in the year.
Let's get one thing straight: the win-at-all-costs mentality is destroying football. The negativity, cynicism, fear, gamesmanship and generally poor fare that follows is a plague on the game. By suggesting that teams should be removed from a competition because they realistically can't win it is adding fuel to this ignominious inferno. It will further strengthen managers' resolve to base results above all else and curb expressive and expansive football.
The message is clear: it's a results business and winning is everything. What's so wrong with a county just taking part and playing their own brand of football and giving it a go? A wholesale shift in people's mentalities is required. We need to encourage attacking football and individual skills rather than promoting this notion that our games are only for winners. For the elite teams.
Of course, none of the counties who are culled from the senior championship if a two-tiered system does materialise will be Sam Maguire Cup contenders. But it's still a significant blow to the standing of a county to be denied entry and the chances are high that most of them will languish and deteriorate rather than improve as a direct consequence of playing in an inferior competition. We'll probably never again see a team come from nowhere like Down did in the '60s and Offaly did in the '80s.
A new format is clearly needed but two tiers is not the way to go. The gulf between the haves and the have-nots will increase. Whose interest is that in? Certainly not the counties that we are apparently trying to assist! Out of sight, out of mind … the underdogs will be neutered. There'll be more and more big games for the big teams in the main competition and the appeal of the lesser counties will diminish even further.
Football in some of the so-called weaker counties could go backwards. Perhaps dramatically so. Failing to make an impression in the second tier will be even more demoralising than coming up short in the senior championship. But it won't matter because it's all in your best interest and nobody will be watching anyway.
Join the hoganstand.com match tracker this weekend for live coverage of the All-Ireland SFC Super 8s and All-Ireland SHC quarter-finals.
Most Read Stories