Ladies football previews: Stage set for Sunday's three All-Ireland finals
August 11, 2023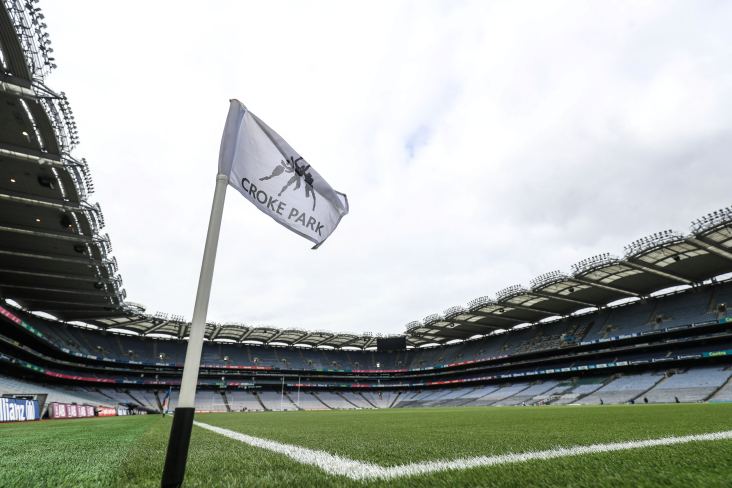 Croke Park will host Sunday's All-Ireland ladies football finals
Compiled by Jackie Cahill
The scene is set for the 2023 TG4 All-Ireland Championship Finals – with Dublin and Kerry set to meet in the LGFA's 50th Senior decider.
A triple bill at Croke Park will see the Junior, Intermediate and Senior champions crowned at Croke Park, with the action getting underway at 11.45am.
Down and Limerick commence the action with the Junior Final, followed by the Intermediate decider between Clare and Kildare at 1.45pm, and the Senior showpiece involving Dublin and Kerry at 4pm.
Captains from the previous 49 All-Ireland Senior Finals will be paraded in front of the Croke Park attendance at half-time in the Senior decider.
All three of Sunday's clashes will be live on TG4 and can be viewed on linear TV or online at https://www.tg4.ie/en/player/watch-live/home/
Sunday, August 13th
11.45am – TG4 All-Ireland Junior Championship Final – Down v Limerick
Both sides have made changes ahead of the Final. For Down, Ciara Byrne at full-back and midfielder Aoife Laverty come into the starting line-up following the semi-final victory over Carlow, with Paige Smyth and Clara Mulvenna named on the bench.
Limerick's Caoimhe McGrath made a huge scoring impact with six points after coming on in the semi-final victory over Fermanagh, and she earns a starting place, with Iris Kennelly dropping to the bench.
It was a case of fourth time lucky for Limerick in their recent TG4 All-Ireland Junior Championship semi-final victory over Fermanagh – and now the Shannonsiders are aiming to get their hands on the West County Hotel Cup for the first time since 2018.
Having lost semi-finals in 2020, 2021 and 2022, Limerick finally cracked the last four code again to book their place in Sunday's Croke Park decider against Down.
For Limerick's opponents from the Mourne County, Sunday's clash will mark a first Junior Final appearance since 2000, when they got the better of Galway.
That was Down's one and only time to contest a Junior Final, as Limerick prepare for their fourth, having finished as runners-up against Antrim in 2009, before winning the silverware in 2010 and 2018.
The sides have met previously in the 2023 Championship, in a group fixture in Newcastlewest last month.
Down, Intermediate champions in 2014, ran out 1-13 to 1-8 winners on the day but prior to throw-in, both teams had already qualified for the knockout phase.
On the day, Limerick struggled to get to grips with Down's outstanding forward Natasha Ferris, who scored 1-8.
Ferris is the current leader in the race for the 2023 ZuCar Golden Boot award, which will be won by the player who finishes as the leading scorer across the Senior, Intermediate and Junior grades in the 2023 TG4 All-Ireland series.
To date, Ferris has amassed an individual haul of 7-26, which is two points clear of her nearest challenger, Clare's Fidelma Marrinan.
DOWN: A McGivern; A Greene, C Byrne, O Boyle; N McKibbin, M Doherty (capt.), O Duffy; A Laverty, A Brogan; N Scullion, V McCormack, L Duffy; E Fitzpatrick, N Ferris, A O'Higgins.
LIMERICK: C Bateman; A Quaid, Y Lee, M MacNamara; G Lee, L Walshe, L Ryan; R Ambrose (capt.), F Bradshaw; D Murphy, K O'Leary, C Mee; L Coughlan, A Ryan, C McGrath.

1.45pm – TG4 All-Ireland Intermediate Championship Final – Clare v Kildare
CLARE and Kildare are both unchanged for their third competitive meeting of 2023 – and another close encounter is anticipated.
The sides have met twice already this year in the Lidl National League and there's been little to separate them on each occasion.
Kildare won a group fixture by 0-9 to 0-7 and when the sides met in the Division 3 Final at Parnell Park, it was another incredibly tight affair.
When the dust settled after extra-time, Kildare had prevailed by just a single point on a 2-11 to 2-10 scoreline, with brilliant Lilywhites forward Róisín Byrne contributing 0-10 of her side's tally.
On the Clare side, Fidelma Marrinan was also in sensational form and unlucky to finish on the losing side after scoring 1-6.
Both teams will contest a TG4 All-Ireland Intermediate Final today for the first time since 2016.
And, as fate would have it, it was Clare and Kildare who also appeared in that Final seven years ago.
On the day, Kildare came out on top to atone for their 2015 Final loss to Waterford.
Sunday marks a third All-Ireland Intermediate Final appearance for Kildare, while Clare are preparing for their fourth.
The Banner County lost to Tipperary in 2008 and Kildare in 2016 but they have won this title before, against Fermanagh in 2009.
Not surprisingly, Byrne and Marrinan have been influential en route to the Final for their respective teams.
Marrinan is Clare's top scorer with 4-33 to date in the All-Ireland series and is the Intermediate Championship's leading sharpshooter.
She's also just two points behind Down's Natasha Ferris in the race for the ZuCar Golden Boot award, which will be received by the leading scorer in the 2023 TG4 All-Ireland series across the Senior, Intermediate and Junior grades.
Byrne, meanwhile, has scored 0-18 for Kildare to date in the All-Ireland series, with team-mate Neasa Dooley weighing in with 4-4.
CLARE: A Lenihan; Á Keane, S Ní Chonaill, G Harvey; L Griffin, C Harvey (capt.), O Devitt; A Reidy, C Moloney; L Ryan, F Marrinan, A Sexton; L Griffey, C Blake, C Cahill.
KILDARE: M Hulgraine; L Burke, L Lenehan, A Clifford; L Gilbert, R Sargent, L Murtagh; G Clifford (capt), A Rattigan; T Duggan, N Dooley, C Sullivan; E Dowling, R Byrne, L Curran.

4pm – TG4 All-Ireland Senior Championship Final – Dublin v Kerry
DUBLIN and Kerry have both named unchanged starting teams for Sunday's TG4 All-Ireland Senior Championship Final – the 50th in LGFA history.
Kerry will continue to monitor the fitness of Hannah O'Donoghue until throw-in, after she went off injured in the semi-final victory over Mayo.
The Finalists have met twice already this year in competitive football and now Dublin and Kerry will do it all over again on the biggest day of all – TG4 All-Ireland Finals Day.
Back in February, Kerry produced a powerful display in Division 1 of the Lidl National League to claim a 3-15 to 1-10 victory in front of the TG4 cameras at Austin Stack Park, Tralee.
That was an early indication that Kerry would be a force to be reckoned with in 2023 and they would finish the League campaign as Division 1 champions, having captured the Division 2 title in 2022, while also contesting a TG4 All-Ireland Senior Final against Meath.
Fast forward to Parnell Park in June and the two sides played out another fascinating encounter, with Louise Ní Mhuircheartaigh contributing 1-6 as Kerry claimed a 2-8 to 1-9 win.
Given the quality on show that day, there was a feeling that these two sides might meet again in Championship 2023 – and so it proved.
As the Championship has progressed, Dublin and Kerry have both grown in stature and confidence – and now they will meet for the very first time in a TG4 All-Ireland Senior Final.
Alongside Cork, with 11 titles each, Kerry have won this competition more times than any other county.
But the Kingdom haven't tasted Brendan Martin Cup success since 1993, while Dublin, five-time winners, go in search of the silverware for the first time since 2020, when they defeated Cork.
For Dublin, this is a first Final since the 2021 defeat to Meath, as Kerry prepare for their second successive Final.
It promises to be something special and only a brave punter would predict a winner following the recent performances of both teams.
Dublin reigned supreme in Leinster, while Kerry lost out to Cork in Munster, and having come through the group phase of the All-Ireland series, Sunday's Finalists have built up considerable heads of steam.
Dublin powered past Donegal at the quarter-final stage, as Kerry ended Meath's three-in-a-row hopes and gained revenge for the 2022 Final loss.
In the semi-finals, Kerry's excellent first half paved the way for victory over Mayo, as Dublin overwhelmed Cork.
The two teams appear to be peaking at the perfect time and now the scene is set for a potential classic.
Ní Mhuircheartaigh comes into the Final in a rich vein of form, the recently-crowned Croke Park / LGFA Player of the Month for July and scorer of 1-10 in the semi-final against Mayo.
She's amassed 4-24 in the All-Ireland series and is the TG4 Senior Championship's top scorer, with Dublin captain Carla Rowe, on 4-13, hot on her heels.
Sadly, team captain Síofra O'Shea misses out for Kerry and she'd been motoring so well before injury struck in advance of the semi-final.
In her absence, Ní Mhuircheartaigh took up even more scoring responsibility but Kerry will need contributions from other players to get the job done.
For Dublin, Hannah Tyrrell has chipped in with 1-13 and is a real threat, along with the likes of Kate Sullivan, Jennifer Dunne and Orlagh Nolan, while the return of former captain Sinéad Aherne has been another fillip for the Sky Blues, who have reached the Final despite being in something of a transitional mode.
These are two teams very much here on merit, the best two Senior teams in the land at this point on time, but only one can prevail.
So, a 12th title for Kerry to put them out on top on the all-time honours list, or Dublin's sixth?
All will be revealed over what promises to be a memorable 60 minutes.
DUBLIN: A Shiels; N Crowley, L Caffrey, A Kane; L Magee, M Byrne, N Donlon; J Dunne, E O'Dowd; C O'Connor, O Nolan, K Sullivan; H Tyrrell, C Rowe, J Egan.
KERRY: C Butler; É Lynch, K Cronin, C Murphy; A O'Connell, E Costello, C Lynch; L Scanlon, L Galvin; N Carmody, N Ní Chonchúir, A Galvin; H O'Donoghue, D O'Leary, L Ní Mhuircheartaigh (capt.).
Ticket details available at: https://bit.ly/3OiiOd5
Most Read Stories