Donegal keen for Lacey and coaches to return to academy posts
March 24, 2023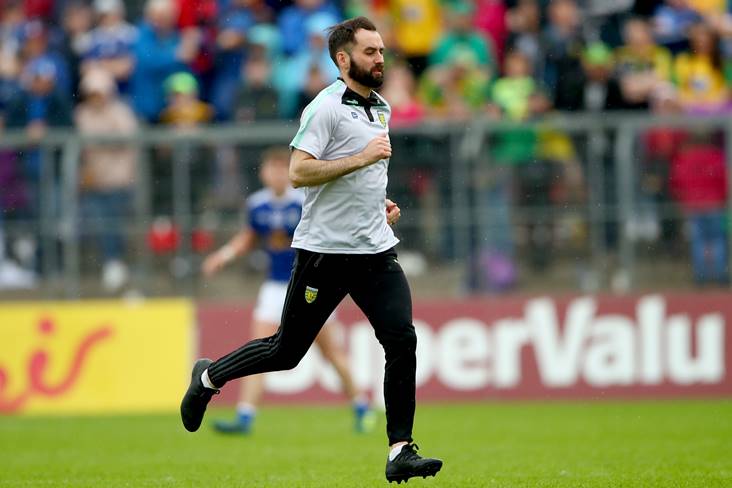 Karl Lacey as Donegal selector. ©INPHO/James Crombie.
Donegal GAA says it hopes to see Karl Lacey and his coaches reconsidering their decisions to walk away from their county academy positions.
Lacey resigned his position as head of the academy last month and was soon followed by other coaches.
To add further to the current turmoil within the Tir Chonaill County, senior football manager Paddy Carr resigned his post this week just five months after succeeding Declan Bonner in the job.
After a specially convened meeting in Convoy last night (Thursday), Donegal county board outlined their plans regarding the academy and in it they also rejected any "suggestion of any misconduct relating to Karl or academy personnel".
"In what has been a difficult period for CLG Dhún na nGall and the Donegal GAA Academy, and following a specially convened meeting of County Committee on Thursday March 23rd, we would like to inform our clubs and supporters that we have agreed on a pathway forward for the Donegal GAA Academy," the statement read.
"We would hope that we will lay the foundations for a progressive future, for the Donegal underage development structures. As has been widely acknowledged in recent months by many in Donegal GAA circles, our academy has been one of the most innovative in terms of coaching and athletic development in Ireland.
"At this point we as a County Committee wish to thank the academy and in particular, former Head of Academy, Karl Lacey for the outstanding progress that the academy has made to date.
"We wish to clearly state that there is no suggestion of any misconduct relating to Karl or academy personnel. We also most strongly caution against and condemn any such suggestion. All finances and governance of the academy have always been the sole responsibility of the County Committee.
"We look forward to working through the recent issues with our academy personnel and building on the great work achieved until this point. We once again thank Karl Lacey for his outstanding and exemplary efforts to date, as a strong role model for all that is good in our games.
"We wish to state it is the express wish of our County Committee that Karl and the coaches would return and we are working hard and are hopeful that they will reconsider their positions. We acknowledge this has been a difficult time for all concerned.
"The GAA in Donegal should be a place where excellence is the standard and that we all play our part in ensuring this happens."
Most Read Stories