Fitzgerald taking over Galway would diminish Wexford loyalty - O'Gorman
September 30, 2021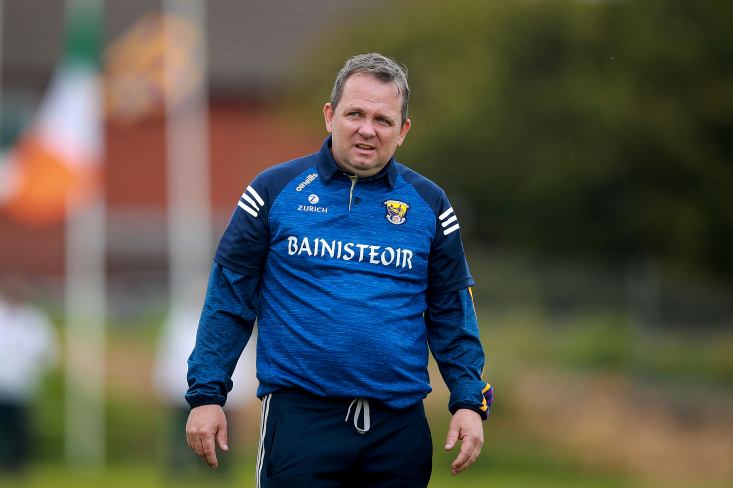 Wexford manager Davy Fitzgerald during his side's league clash with Antrim
Wexford legend Larry O'Gorman feels that Davy Fitzgerald taking the Galway senior hurling managerial post would diminish his loyalty to the Model County.
After stepping down from his post with Wexford this past summer, Fitzgerald has been linked with the Galway job following Shane O'Neill's departure from the post.
Speaking to Sky Sports GAA, O'Gorman said that taking over the Tribesmen straight away would be a "very strange" move from the Clare native.
"It would be very strange to see Davy after he leaving us and then he would go to the opposition straight away," he said.
"You would not be calling it great loyalty, to be honest. Davy had done a good job with Wexford over the years but in the last year or two it just ran its legs and he tried to stretch it out as much as possible.
"Now that he is gone, he is not in a job at the moment. He said he wants to take a year or two out but who knows, if there is an opportunity for Davy somewhere else… to say one week Davy loves Wexford and the following week then he loves Galway or Dublin so it is very hard to take.
"When you are fully committed to a county, I think you should stick with that county and then take a break for a couple of years after that. It is really down to himself. Your loyalty and love for a county only sticks with you when you are with that county apparently.
"I think when you move on you want to give it a rest for a wee while. Maybe, go for some other challenge, maybe take over a football county somewhere just to give himself a break from hurling!
"How can you train a team for a number of years and then jump ship to train another team to beat you after you being so loyal to them?"
Most Read Stories