Munster club hurling and football championship draws made
September 24, 2021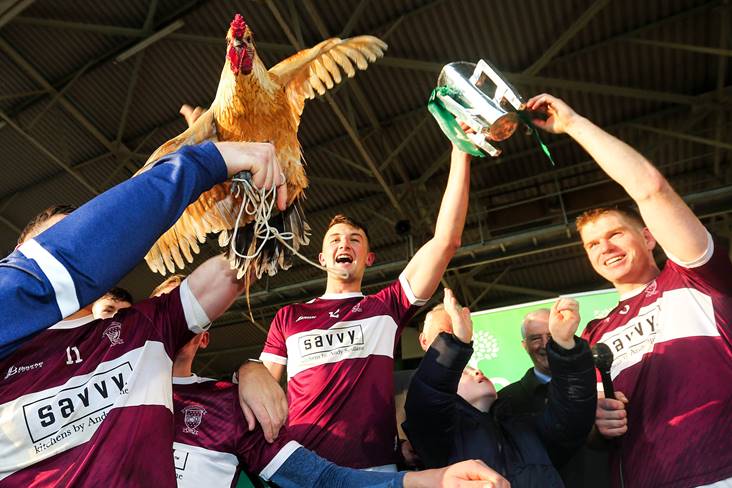 The Borris-Ileigh mascot joins the celebrations as Conor Kenny and Sean McCormack lift the Dan Breen Cup. ©INPHO/Lorraine O'Sullivan.
The draws for the 2021 Munster club hurling and football championships were made last night.
The provincial competitions are set to begin on the weekend of November 27/28 while the finals for all six competitions are fixed for January 2022.
The draws in full are as follows:
2021 AIB Munster GAA Hurling Senior Club Championship
QF: Clare v Waterford on 27/11 or 28/11 at Clare venue
SF: Limerick v Cork on 11/12 or 12/12 at Limerick venue
SF: Tipperary v Clare or Waterford on 11/12 or 12/12
Final: 8/1 or 9/1
2021 AIB Munster GAA Football Senior Club Championship
QF: Clare v Tipperary on 4/12 or 5/12 at Clare venue
QF: Limerick v Waterford on 4/12 or 5/12 at Limerick venue
SF: Cork v Clare or Tipperary on 18/12 or 19/12
SF: Kerry v Limerick or Waterford on 18/12 or 19/12
Final: 15/1 or 16/1
2021 AIB Munster GAA Hurling Intermediate Club Championship
QF: Clare v Waterford on 27/11 or 28/11 at Clare venue
QF: Tipperary v Kerry on 27/11 or 28/11 at Tipperary venue
SF: Limerick v Cork on 11/12 or 12/12
SF: Clare or Waterford v Tipperary or Kerry on 11/12 or 12/12
Final: 8/1 or 9/1
2021 AIB Munster GAA Football Intermediate Club Championship
QF: Tipperary v Waterford on 4/12 or 5/12 at Tipperary venue
QF: Clare v Limerick on 4/12 or 5/12 at Clare venue
SF: Kerry v Tipperary or Waterford on 18/12 or 19/12
SF: Cork v Clare or Limerick on 18/12 or 19/12
Final: 15/1 or 16/1
2021 AIB Munster GAA Hurling Junior Club Championship
QF: Kerry v Tipperary on 27/11 or 28/11 at Kerry venue
QF: Clare v Waterford on 27/11 or 28/11 at Clare venue
SF: Kerry or Tipperary v Clare or Waterford on 11/12 or 12/12
SF: Cork v Limerick on 11/12 or 12/12
Final: 8/1 or 9/1
2021 AIB Munster GAA Football Junior Club Championship
QF: Limerick v Tipperary on 4/12 or 5/12 at Limerick venue
QF: Clare v Cork on 4/12 or 5/12 at Clare venue
SF: Limerick or Tipperary v Waterford on 18/12 or 19/12
SF: Clare or Cork v Kerry on 18/12 or 19/12
Final: 15/1 or 16/1
Most Read Stories