All-Ireland GAA PPS competitions cancelled
June 27, 2020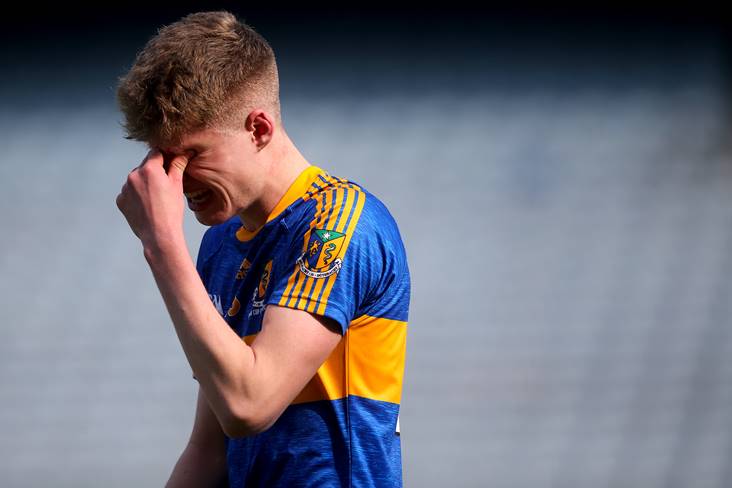 Naas CBS' Mikey McGovern dejected. ©INPHO/Oisin Keniry.
The remaining All-Ireland GAA Post Primary Schools competitions have been cancelled, including the Hogan and Croke Cups.

Following recommendations made by the CCCC, a statement on Friday from An Coiste Bainistíochta explained the decision not to conclude the Schools' GAA All-Ireland competitions for 2020. Meanwhile, all remaining provincial competitions will be completed.

The Brother Bosco Cup final has been rescheduled for July 24 but there is now no hope of the winners contesting the All-Ireland stage.

An Coiste Bainistíochta Statement

At last night's meeting of Coiste Bainstí, it was decided that:

Competitions should be completed to Provincial Final stage only. No All Ireland Series at any level.

This means that the proposals to complete the remaining competitions at All Ireland Level was not granted

I understand that this decision is not what teams involved will have hoped for and it wasn't the wish of the Post Primary School Council, but as we are a sub committee of Coistí Bainstí, we must adhere to the decision made.

Can I take the opportunity to thank the mentors involved with the schools for their patience in what was a challenging year for all. I wish you all the best going forward and a safe return to Gaelic Games fields in the coming weeks.
Most Read Stories