Hurling For Cancer Research
August 07, 2013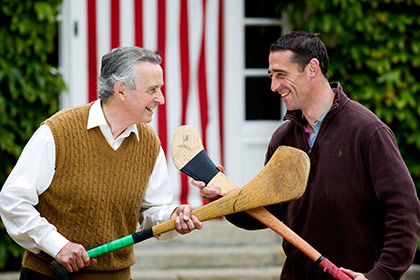 Horse racing legend Jim Bolger and champion jockey Davy Russell.
Jim Bolger's Stars vs. Davy Russell's Best
Where: St. Conleth's Park, Newbridge, Co. Kildare
When: 6.30pm, 13th August, 2013
A who's who of Irish celebs will be taking to the pitch in Saint Conleth's Park for a celebrity hurling match next Tuesday in aid of the Irish Cancer Society to raise money for cancer research. The event, which has been organised for the second year in a row by horseracing legend Jim Bolger and champion jockey Davy Russell, will see a host of Irish hurling and horse racing stars come together for what promises to be a fantastic day for everyone involved. This year's event follows the amazing success of Hurling for Cancer Research 2012 which raised €123,000 for the Irish Cancer Society's cancer research programme.
The participants, a mix of GAA and horse racing stars, include; Mark Landers, T.J. Ryan , Pat Fox, Joe Deane, Dave Bernie, Damien Fitzhenry and Charlie Carter - all active in Racing; All Ireland minor winner James Dowling who captains team J.S.B.; Wexford all Ireland winning manager Liam Griffin; Kilkenny Manager Brian Cody; Derby winning Jockeys Kevin Manning and Michael J. Kinane; Colm O'Rourke; Gráinne Seoige; Michael O'Leary; Ronnie Delaney; Sile Seoige; Irish Sports Woman of the year, top lady jockey Katie Walsh; Niall Quinn; hurling legends D.J. Carey and Nicky English; and Cyril Farrell as Referee for the day. Irish icon Micheál Ó Muircheartaigh will be the days craoltoir. For the lesser sporting inclined among the audience, entertainment on the day will be provided by the Artane Band with Anthony Kearns singing Amhrán na bhFiann.
Most Read Stories