All-Ireland SFC final: Dubs edge out Mayo for title #24
September 22, 2013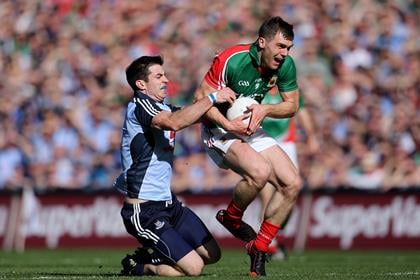 Mayo's Seamus O'Shea is tackled by Michael D Macauley of Dublin.
©INPHO/Cathal Noonan.
Bernard Brogan netted twice as Dublin beat Mayo by 2-12 to 1-14 at scorching-hot Croke Park.
With a crowd of 82,274 watching on, the Dubs withstood everything Mayo could throw at them to inflict further heartache on James Horan's charges.
In the second half, Dublin threw off their shackles to produce the sort of swashbuckling football that has epitomised them all year, notching a goal and eight points to leave their hapless opponents heartbroken yet again.
At the end of a shapeless, ragged and disjointed first half, the gallant losers held the narrowest of advantages, 0-8 to 1-4. During those opening 35 minutes, the match failed to live up to its billing as both sets of players struggled to cope with the suffocating heat and the occasion itself.
The first half was characterised by a series of poor wides and under-struck shots at either end, while Dublin were only kept in contention by Brogan's 16th-minute goal, which resulted as much from a mix-up at the back as the opportunism of the former Footballer of the Year.
Keith Higgins thought he had given Mayo an opening-minute lead but both the umpire and Hawk-Eye were in agreement that the centre forward's effort had tailed inches to the right of the posts and wide. The Connacht champions followed up with a second wide from a Cillian O'Connor free from close to the sideline under the Cusack Stand.
But captain Andy Moran showed the way as he grasped possession and slotted over the opening point of the 2013 All-Ireland senior football championship final on four minutes. Almost immediately, Diarmuid Connolly latched onto a pass to kick the Dubs level with a trademark finish between the Hill 16 sticks.
When Seamus O'Shea was dragged down by Michael Darragh MacAuley, O'Connor surprisingly scooped his free from straight in front of the posts to the left and wide. But wing back Lee Keegan stole forward to restore Mayo's lead with a nonchalant finish off his left foot.
With the Dublin defence all at sea, Higgins was content to take his point at the end of the next Mayo move; Paul Mannion was wildly off target at the other end as the westerners led by two after eleven minutes. After O'Connor's shot was blocked down, Philly McMahon was penalised for touching the ball on the ground and the Mayo No.13 finally opened his account with a simple 13th-minute free: 0-4 to 0-1.
Connolly swung a Dublin free harmlessly to the left of the posts and wide; Mayo 'keeper Robert Hennelly fared no better with his mis-hit free. Mannion was forced out of the action after only 15 minutes due to a hamstring action; Jim Gavin replaced the Kilmacud Crokes youngster with Eoghan O'Gara.
The match exploded to life in the 16th minute when Brogan beat Ger Cafferkey and Hennelly to a Paul Flynn delivery to flick the ball to the net and tie up the scores. A point from Seamus O'Shea followed by a Ciaran Kilkenny miss meant Mayo led by a point at the end of the first quarter: 0-5 to 1-1.
Kevin McLoughlin added to Mayo's wides tally but O'Connor stretched their lead from a free resulting from a Ger Brennan handling error. No.5 Keegan had all the time and space in the world as he nailed his second point to increase the gap, 0-7 to 1-1. With Dublin all over the place - just two scores in the first 23 minutes! - McLoughlin hit another wide.
Under the Hill, Hennelly made himself big to deny Kilkenny but the ball worked its way to Brogan, who made no mistake. Dublin should have added another one but Kilkenny's under-cooked shot was easily dealt with by Hennelly … and it was a two-point turnaround as Moran deftly pointed at the other end, 0-8 to 1-2.
Hennelly came off his line to thwart MacAuley and - even though the ball appeared to come off the Dublin midfielder last - Cluxton obliged from the resultant '45'. Paddy Andrews spurned a scoring opportunity for the Leinster champions and then good defending from Jonny Cooper saw off Mayo, who had replaced Alan Freeman with Michael Conroy.
Unbelievably, yet another attempt from Kilkenny fell into the grateful grasp of Hennelly; Cluxton was lucky when he came off his line and misjudged the flight of the ball; Brennan clipped a left-footed shot wide of the posts.
In the penultimate minute of the first half, Cluxton came forward and inexplicably missed a simple free following Keegan's jersey tug on Connolly. That miss typified a disappointing first half from the Sky Blues in front of the posts. O'Gara was having none of it, however, and he overpowered his marker to fist a fourth Dubs point on the stroke of 35 minutes, leaving just a point between the teams at the short whistle.
Dublin replaced half back Jack McCaffrey with Darren Daly for the start of the second half, while Mayo introduced Cathal Carolan for Tom Cunniffe at corner back. When the action resumed, Kilkenny hit a wide before Dublin moved ahead for the first time thanks to points from Cian O'Sullivan and O'Gara.
Mayo drew level with an O'Connor free but Andrews pointed on 44 minutes to make it 1-7 to 0-9. In the meantime, the Dubs had replaced the ineffective Kilkenny with Dean Rock…
With the bit between their teeth and suddenly looking very assured, Dublin added points from Flynn and Brogan to surge three clear; the match seemed to be slipping from Mayo's grasp but - in the 50th minute - with Cluxton again stranded in no man's land - Moran collected a Conroy pass and casually rolled the ball to the back of the empty net to tie up the scores again: 1-9 each.
The Dubs had used up four subs - with McManamon having replaced Andrews - when corner back Cooper was forced out of the fray with concussion following an accidental off-the-ball collision. Forced to make his final change, manager Jim Gavin opted not to go with like-for-like, introducing midfielder Denis Bastick and reshuffling his deck.
Astonishingly, Bastick had an immediate impact as he sprinted forward, spotted the unmarked Brogan hovering at the back post and sent across a precise handpass, which the St Oliver Plunkett's Eoghan Ruadh clubman first-timed to the back of an empty net: 2-9 to 1-9.
O'Connor and Brogan swapped frees from in front of the posts and Mayo were very fortunate to be awarded a free-in when Rory O'Carroll caught substitute Enda Varley (who replaced Alan Dillon) with a crunching shoulder which left both players lying on the deck. O'Carroll, who came out worst, picked up a harsh yellow card for his troubles and O'Connor arrowed the resultant free between the posts: 2-10 to 1-11 after 61 minutes.
Keegan dropped a shot short; McManamon coughed up possession at the other end. With Cluxton's kick-outs becoming an increasing factor, Dublin centre back Brennan got forward to nail an inspirational point in the 65th minute (after a Conroy miss): 2-11 to 1-11.
A Mayo free was moved forward and O'Connor obliged; McManamon won a 68th-minute free and Cluxton came forward to strike; straight and true, 2-12 to 1-12.
With a goal between the sides at the end of the regulation 70, four minutes of injury time were announced. Mayo - who didn't manage a point from play in the second half - needed to find the net but found a forest of Dublin players between them and the goals at the Hill 16 end…
O'Connor knocked over his seventh free in the third added minute and Mayo were awarded another free in front of the posts in the 74th minute. Again, O'Connor struck it between the posts. But the referee blew his final whistle as Cluxton's kick-out sailed through the humid north Dublin air and the Metropolitans were All-Ireland champions once more.
Dublin: S Cluxton (0-2); P McMahon, R O'Carroll, J Cooper; J McCarthy, G Brennan (0-1), J McCaffrey; MD Macauley, C O'Sullivan (0-1); P Flynn (0-1), C Kilkenny, D Connolly (0-1); P Mannion, P Andrews (0-1), B Brogan (2-3). Subs: E O'Gara (0-2) for P Mannion (16), D Bastick for C O'Sullivan (18-21, blood sub), D Daly for J McCaffrey (HT), K O'Brien for P McMahon (40-43, blood sub), D Rock for C Kilkenny (42), K McManamon for P Andrews (49), D Bastick for J Cooper (53).
Mayo: R Hennelly; T Cunniffe, G Cafferkey, C Barrett; L Keegan (0-2), D Vaughan, C Boyle; A O'Shea, S O'Shea (0-1); K McLoughlin, K Higgins (0-1), A Dillon; C O'Connor (0-8), A Freeman, A Moran (1-2). Subs: M Conroy for A Freeman (28), C Carolan for T Cunniffe (HT), E Varley for A Dillon (55), B Moran for S O'Shea (60), J Doherty for A Moran (68).
Referee: Joe McQuillan (Cavan).
Most Read Stories