Micko keeps Wicklow waiting
September 10, 2010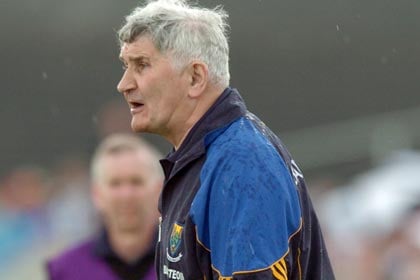 Mick O'Dwyer
Mick O'Dwyer has still to let Wicklow know whether he intends staying on as manager for another year.
At their county board meeting last Monday week, Wicklow acceded to his request for an extra 10 days to consider his options. That deadline expired yesterday, but O'Dwyer is now expected to convey a decision over the weekend or Monday at the latest.
The Kerryman has been linked with a number of other counties since Wicklow were knocked out of the championship by Cavan at the end of June. He has been nominated to succeed John O'Mahony in Mayo, though it's believed many clubs are in favour of an internal appointment.
Monaghan officials also made contact with O'Dwyer last week with a view to appointing him as Seamus McEnaney's successor. O'Dwyer reportedly told the Wicklow players after the All-Ireland qualifier defeat to Cavan that he was stepping down, but the board have kept the door ajar for him and remain hopeful that he will stay with the Garden County for another year.
Most Read Stories