British Universities 2013 report
March 15, 2013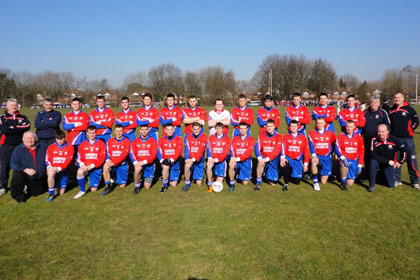 The New York Collegiate Team won Division 2 at the British Universities Championship.
The New York collegiate team set foot on British soil on March 1st for the seventh successive time to compete in the British Universities Championships. The team and mentors left JFK on Thursday night, stopping over in Dublin Airport en route to Manchester. Arriving at around 12pm, the team set themselves up in the beautiful Mercure Altrincham Bowden Hotel in Cheshire, 10 miles from Manchester city and a stroll to the quaint town of Hale.
Preparations had begun in mid-November with a number of tryouts, which lasted through December. Indeed, this year saw a record number at tryouts totaling forty players, culminating in a panel of 24 players selected. But one final workout was conducted on Friday evening by trainer Marty Hanley in nearby Stamford Park. Stamford Park is a local picturesque park primarily used by joggers, walkers and dog walkers alike. So most likely this was the first time a Gaelic Football was ever kicked here. The locals stopped in amazement trying to figure out what this squad was up to and even the dogs seemed more gleeful in the company of their new co-inhabitants.
Saturday morning soon arrived and so it was time to get on with business. The Division 2 group games were played at Hough End playing fields, in Chorlton, a 15-minute drive from Cheshire. First team up was Liverpool John Moore's. As expected, the early going was tough, but a Shane Hanley free settled NY nerves. Some great work was being done out field by Shane Hogan and Danny Lehane at midfield. Frankie McDermott, Conor Hogan, Ciaran Slattery and Niall Croke led from the back and a succession of ball was reaching the forwards. This resulted in a number of great scores by CJ Molloy, Brian Givney, Kevin Daly and a Niall Croke penalty left the score at half time 2-4 to 0-3. The second half was a lower scoring affair, with NY adding 3 more points via CJ Molloy and Gareth Moore. NY won the game on a score line of 2-7 to LJM 0-4.
The next group game up immediately was against Heriot Watt, who were playing their first game of the day. NY got off to a slow start, perhaps still relishing their initial victory. Heriot were in control early and after catching NY off guard with a quick free for a goal, led by 1-4 to 0-2 with 5 minutes remaining in the half. However, on the ensuing kick out, Shane Hogan collected the ball at midfield and after a dazzling solo run, shot the ball to the back of the net to revive NY's hopes. Heriot countered with a point, but just before halftime, Kevin Daly leveled thing up with a goal that struck the upright before finding net to leave the halftime score NY 2-2, Heriot 1-5. The second half saw NY win most of the ball and substitute Adrian Wynne hit a left footed goal to give NY the lead. Heriot scored a point before C.J. Molloy answered with a point to leave a goal between the sides. The back and forth action continued and a great save by Kevin McArdle, who deflected a rocket for a 50, kept NY's lead intact. At the final whistle, NY had their second win of the day by a score of 3-3 to 1-6.
With the two wins in their group, NY qualified for the "A" or Cup semi-finals, where the opponents would be the University of Dundee. This game would be two 15-minute halves, just like the group games. The first half was a back and forth encounter with scores being traded equally amidst some great displays of football. At the half, Dundee led by the minimum, 0-4 to 0-3. NY's scorers were Shane Hanley, Liam Deane and C.J. Molloy. The early going in the second half went Dundee's way and they added 0-3 on to leave them leading by 0-7 to 0-3 with only 10 minutes remaining. Things were looking bleak for NY, but some shrewd substitutions and switched positions, particularly Niall Croke's move to center back, began to turn the tide NY's way. They began to win every ball at midfield and a well-taken point by Conor Hogan got NY on the scoreboard. A long ball into the square was met perfectly by Liam Deane, who parried the ball over the goalie's head into the back of the net to leave the sides level with about 5 minutes remaining. NY kept up the pressure and a C.J. Molloy point put NY into the lead for the first time. Dundee didn't back down, but the NY backs once again stood strong and as time was running out, Donnacha O'Dwyer won a key ball on his own 21 by dispossessing the Dundee forward and was fouled. The resultant free was the last kick of the game and NY won a thrilling encounter by a final score of NY 1-5, Dundee 0-7, putting them in the Cup final for the first time ever.
A high noon showdown was set for the final on Sunday, March 3rd pitting NY against old rivals the University of Aberdeen. NY were determined to make history right from the start and two early points from C.J. Molloy and one from Liam Deane, followed by a great goal from C.J., put NY in the driver's seat. Aberdeen tacked on 2 points, but Kevin Daly finished the half with two of his own to leave the halftime score NY 1-5, Aberdeen 0-2. Early second half points from Hanley (0-2) and Molloy increased the lead. Aberdeen began to make some runs and added on 3 points before NY regained momentum with points from Molloy and Adrian Wynne. A late penalty by Aberdeen eluded keeper Kevin McArdle to close the gap to five points, but NY finished strong and at the final whistle were deserving winners and Division 2 champions on a score of 1-10 to 1-5. There were great celebrations in the NY camp as NY's tri-captains of Ciaran Slattery, C.J. Molloy and Conor Hogan were presented with the cup by British Universities GAA chairman Peter Mossey, as BUGAA secretary George O'Rourke looked on. NY's halfback Frankie McDermott was named Player of the Tournament, a well-deserved honor.
NY returns home with the Division 2 Cup and a likely elevation to Division 1 for 2014. The NY contingent would like to thank everyone involved with the BUGAA, especially Peter Mossey and George O'Rourke, for their hospitality and generosity throughout the tournament.
NY Panel: Kevin McArdle, Ciaran Slattery, Niall Croke, Michael McBrien, Frankie McDermott, Shane Hogan, Conor Hogan, Daniel Lehane, Donnacha O'Dwyer, Shane Hanley, Brian Givney, Brian Twomey, Kevin Daly, C.J. Molloy, Liam Deane, Denis Kilkenny, Thomas O'Brien, James Mullen, Padraig Gargan, Gareth Moore, Adrian Wynne, Rory Redican, Edmond Myers and Michael McSweeney.
Manager - Eamonn Deane, Trainer - Marty Hanley, Selectors - Roger Slattery, Denis Twomey & Kieran Croke, Tour Manager - Eugene McArdle.
Most Read Stories