The London team land in Ireland
July 20, 2013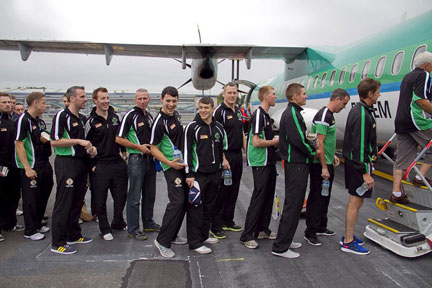 The London team arrives from London Southend Airport into Ireland West Knock Airport
Team arrives from London Southend Airport into Ireland West Knock Airport on a specially chartered flight with Aer Lingus Regional
London GAA team land to a Gathering reception ahead of historic Connacht Final
The London gaelic football team arrived into Ireland West Knock Airport today (Saturday) on a specially chartered flight provided by Aer Lingus Regional. The team were greeted to a welcoming reception supported by The Gathering, in advance of tomorrow's historic Connacht Championship Senior Football Final between London and Mayo.
The Final is the first time that London have ever reached a Connacht Championship Final and is unique in that it is the first time a team has flown from outside Ireland to compete in this Final.
The game has generated a huge response amongst Irish emigrants from London to Lisbon, Surrey to Sydney, with hundreds expected to converge on Elverys McHale Park to cheer on London and tens of thousands more watching the game live across the globe.
Speaking about the event, Seán Brogan, CEO, Aer Lingus Regional said: 'These guys are the best of what Ireland as a country represents - courage, determination and a really strong positive attitude. They are remarkable in their support for and dedication over recent months. They have become important ambassadors for club and country.
'They deserve some Irish hospitality - no other county team needs to fly to play a match, the cost has been immense on London GAA. Aer Lingus Regional are delighted to help out and bring the lads over to Mayo in style for this momentous Connacht final. We wish them the very best'.
Most Read Stories