Fatgate: Loughnane told to 'crawl up his own ass'
February 14, 2014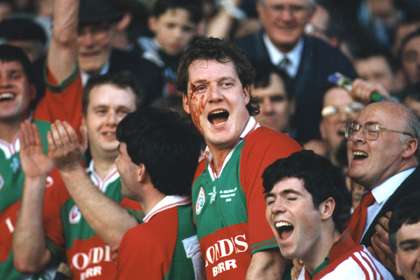 Former Offaly great Daithi Regan celebrates another All Ireland club success with Birr
Ger Loughnane's assertion that Offaly are "the only team in the modern era where you still see players with fat legs, bellies and arses," has led to some hard hitting responses from the Faithful County.
Loughane's fellow pundit on the Sunday Game and former Offaly All-Ireland winner
Michael Duignan
described the comment on twitter as a cheap shot: "Cheap shot at very dedicated bunch of lads. Grossly unfair! Maybe we should get a full time manager!! #GerDidntInventHurling"
Duignan's former teammate
Daithi Regan
took it a step further and hinted that Ger might still hold a grudge against Offaly following Clare's defeat at the hands of the county in the 1998 All-Ireland semi-final. Regan tweeted: "Someone give Ger a replica Liam McCarthy cup, stamp it 1998 "winners" then he might crawl back up his ass."
Offaly hurler
Shane Dooley
reckons that Loughnane is just trying to keep up his profile with such incendiary comments: "Ah sure look, he's making them statements to try keep himself relevant! We'd welcome the ammunition!"
Most Read Stories