FL Div 2 final: Second quarter surge turns tide Ratoath's way
October 01, 2017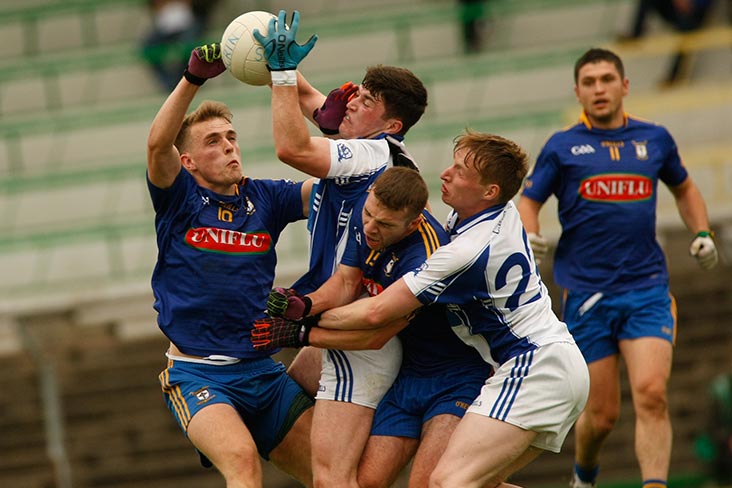 Ratoath's Conor Rooney and Joey Wallace with Eoin Smith and Timmy Lennon during the Meath Division 2 FL Final at Pairc Tailteann.
Ratoath claimed the Kevin McConnell Cup when seeing off Skryne in the FL Division 2 final at Pairc Tailteann on Sunday afternoon

Ratoath ...... 1-15
Skryne ........  1-8

Ratoath - who topped the regular league table - struggled in the early minutes to take advantage of the elements, but once they regained the lead from the through top scorer Eamon Wallace in the 29th minute they retained it to the end.

The elder Wallace finished with 1-4 to his name. He was supported in the scoring stakes by six team mates including sub Gareth Rooney.

Against that Skryne had just two scorers - wing-back Paddy Carpenter (who scored 1-2 from play) and Paddy O'Rourke.

A four-point interval advantage didn't seem sufficient to see Ratoath home given the strength of the wind.

It took Skryne 11 minutes to open their second-half account - a Paddy O'Rourke free. Ratoath countered that through Bryan McMahon in the 46th minute. One of the corner forward's quartet of points from play.

O'Rourke posted two points in quick succession - the second a punched effort when he was bottled up.

That left just two points in it with 49 minutes gone. However, Martin Frayne's men didn't score.

Ratoath sealed the deal when adding 1-2 without reply in the latter stages. Eamonn Wallace netted with aplomb with assistance from brother Joey in the 54th minute. Points from McMahon and sub Rooney copper fastened the outcome.

From the off, Ratoath were backed by the strong wind blowing into the town end. However, it was Skryne who bossed matters past the mid point of the half.

Skryne's first-half tally was shared between Paddy O'Rourke (0-4) and wing-back Paddy Carpenter. The latter netted with a neat flick in the 18th minute to make it 1-4 to 0-3.

Bryan Davis and sub Jason Fox assisted in what proved to be Skryne's penultimate score of the half.

Ratoath outscored their neighbours by 0-9 to 0-1 over the remainder of the half to lead by 0-12 to 1-5 at the interval.

Ratoath's sequence was interupted by Paddy O'Rourke's second pointed free of the half in the 26th

Ratoath - Shane Duffy; Brian O'Connor (C), Conor McGill, Darragh McGill; Enda Cahill, Ciaran O Fearragih, Emmet Boyle (0-1); Ben McGowan, Bryan Power; Conor Rooney (0-1), Bobby O'Brien (0-2), Eamon Wallace (1-4, 1f); Bryan McMahon (0-4), Darragh Kelly, Joey Wallace (0-2). Subs - Mick Lavin for D McGill (46), Gareth Rooney (0-1) for Kelly (51), Jack McGowan for C Rooney (62)

Skryne - Felim O'Rourke; Timmy Lennon, Eoghan Greene, Declan Morley; Paddy Carpenter (1-2), Donal Ryan, Adam O'Sullivan; Ciaran Lenehan, Aidan Tuite; Eoin Smyth,  Paddy O'Rourke (0-6, 3fs), Ronan McCabe; Paddy Fox, Mark Battersby, Bryan Davis. Subs - Jason Fox for McCabe (20), Frank Carty for O'Sullivan (ht), Neil Burke for Davis (57), David Carroll for Morley (57)

Referee - Joe Synnott (Donaghmore-Ashbourne).
Most Read Stories