JFC: Clonard move to the top of Group A
June 29, 2017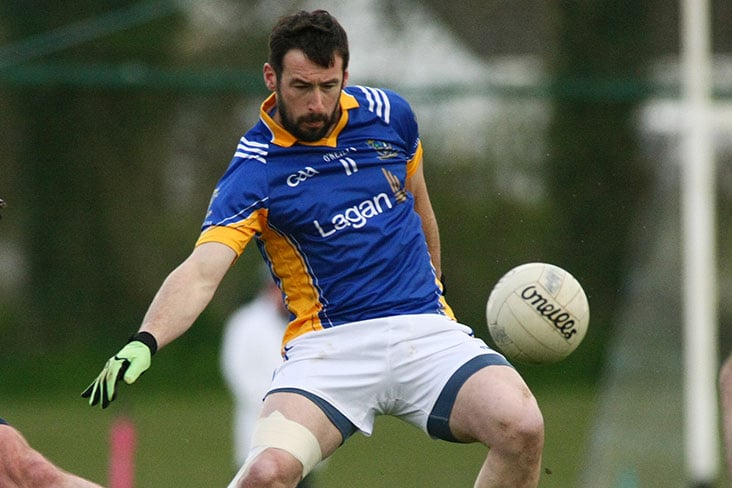 Clonard's Jason Moore
Clonard 1-11 Cortown 1-7
On an overcast but mild June evening Clonard and Cortown once again locked horns in the Junior Championship, with both teams looking to claim top spot in group A with a win. The last time these two teams met in the Junior championship was in 2013, when Cortown had a narrow victory in the Junior semi-final at Pairc Tailteann.
There were also other pre-texts to this game including Clonard Manager Damien Griffin having previously managed the opposition team, and Cortown's disputed one point win over Clonard in the league earlier this year. It promised to be an interesting encounter and didn't disappoint.
Referee Gerry McGivney was the man in charge and he threw the ball in as Clonard set the tone by winning possession from the outset and it was clear within the first minutes of the game that they were prepared, and had revenge on their minds. However, their possession wasn't rewarded on the scoreboard as Eoin Treacy, Mikie Mullen, and Jason Dowdall were among those who registered wides while Cortown pointed from a free with their solitary attack in the opening ten minutes. Clonard management and supporters hoped it wasn't going to be one of those days.
The ever reliable Eoin Connolly stopped the rot with one of his trademark forays up the field and posted a fine score. It seemed to spur on his teammates as Jason Moore's strength once again opened up space in front of him to allow him to take his point. Two sublime efforts followed from Clonard's two corner forwards, Johnny Fitzsimons and Mikie Mullen, as they struck two excellent points from distance, much to the delight of the Clonard faithful on the sidelines.
Cortown are a Meath team well known for their physical abilities but Clonard's own physicality came to the fore as they won all the man-to-man pairings. Paddy Daly shone at full back, constantly denying possession and turning over ball. It was one of his many runs out from defence that ended in a black card for the Cortown midfielder as a high and dangerous tackle brought Daly crashing to the ground. The half back line of Clonard were also excelling with Ger Foley perfecting a man marking job on Cortown's danger man Glen 'Locky' Loughran. Mention too for Dylan Flanagan, moved from his customary midfield position, to great effect at number 5. As the first half came to a close Eoin Treacy found his range after earlier misses as his point left the half-time score Clonard 0-6 Cortown 0-3.
The first ten minutes of the second half were going to be crucial for both teams. Cortown needed to make an impact but it was again Clonard who won the battles and breaking balls, and crucially in the midfield area, as the new partnership of Adam Flanagan and Jason Dowdall worked tirelessly. County man Flanagan showed little ill-effects from a dead leg suffered only three days earlier in Meath's Leinster Junior title triumph over Louth in Croke Park.
Clonard duely registered the first score of the half when Paul Sheridan's 'forty-five' dropped short and was parried in the six yard box by his opposite number. Ian Campbell reacted first and pulled on the ball and Clonard were four points up, far less than their dominance warranted. Mikie Mullen struck from a free to stretch the lead to five and then came the vital score.
A slack hand pace from the Cortown half-back ended with possession for Johnny Fitzsimons. The lively Fitzsimons bore down on the Cortown goal as the Clonard support expected a fisted effort over the bar, but he thought better and squared to the unmarked Kenneth Darby who made no mistake from close range to find the net. A great moment for the dedicated club-man in his first junior championship appearance since his serious road accident exactly one year previous.
Cortown were reeling once again but replied with a much-needed point. However, the Clonard men again responded, the boot of Jason Moore registered his second of the match and Mikie Mullen connected beautifully with a free from the ground at long range. Substitute Ryan Raleigh added to Cortown woes when he replaced Fitzsimons, and duly pointed not long after his introduction.
With the lead now out to nine points and only ten minutes left on the clock Cortown threw caution to the wind. Two goal attempts were brilliantly blocked by the impressive corner back Stephen Connolly, aided by Jason Dowdall, with Connolly again flinging himself at the second effort to thwart Cortown once more. Cortown did eventually get a reward for their efforts as they moved 'Locky' to full-forward and a long high ball was parried by Sheridan after advancing from his goal-line, only for the rebound to be collected by a Cortown forward and hit low to the net.
Two more points from dead-balls reduced the margin to four points as full time loomed but Clonard could afford the luxury of hitting two more wides in the closing minutes as McGivney blew the whistle for full-time. Clonard were deserving winners on a final score-line of Clonard 1-11 Cortown 1-7. The delight was plain to see on the faces of players, substitutes, management and supporters. Word also filtered through of the result from Clonard Ladies match, their first ever win in their maiden year and considering the connections of some mothers, sisters and wives the smiles were made even broader. Well done to them.
A lot can change in four years, since that semi-final meeting in Navan, Cortown won that final and then plied their trade admirably in Intermediate before being relegated back to this grade on score difference last year, while during the same period Clonard battled relegation to Junior B despite their closeness to the Intermediate grade in 2013. However, the present day is the most important and relevant, and Clonard appear to be a club on the rise, while Cortown must regroup to get their championship aspirations back on track.
Clonard: Paul Sheridan, Brian O'Reilly, Paddy Daly, Stephen Connolly, Dylan Flanagan, Ger Foley, Eoghan Connolly (0-2), Adam Flanagan, Jason Dowdall, Paul Boland, Eoin Treacy (0-1), Jason Moore (0-2), Johnny Fitzsimons (0-1), Ian Campbell (0-1), Mikie Mullen (0-3 0-2f)
SUBS: Kenneth Darby (1-0) for P.Boland, Ryan Raleigh (0-1) for J.Fitzsimons, Gary Raleigh for I.Campbell
Most Read Stories