GAA President online winner of Dunshaughlin lotto
January 07, 2014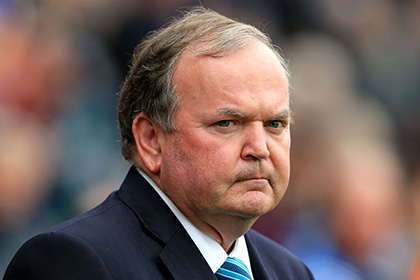 GAA President Liam O'Neill
The numbers drawn in the Dunshaughlin GAA Lotto were 4,11,16 & 20 and there was no winner of our Jackpot. The president of the GAA himself Liam O'Neill was our online match three winner and Joe Costello, Seamus Flynn, Deirdre Gallagher, Aine Lynch and Jack Lynch were the others who matched three numbers. Well done ladies and gentlemen it is always nice to win some extra cash in January.
This week heralds the start of a new dawn with the first training session of the new year taking place on Tuesday and Thursday at 8pm. All players are asked to attend and any new players are welcome to come along.
For players not paying membership online there will be registration in the clubhouse on Thursday 16th January from 7pm - 7.45pm.
Dunshaughlin GAA Clubhouse 2014
Dunshaughlin GAA club needs your support for a modern clubhouse facility for the current& future generations of the locality. This is a real Investment in your family's future.
Please click here for details as to how you can help:
CLICK HERE
You can also pay online by clicking on the following link with details of 3 different online payment options:
CLICK HERE
2014 Dunshaughlin GAA Club Membership
Club membership is now due for 2014. Some of the benefits of being a member of Dunshaughlin GAA are:
Ability to influence how the club is run
Membership pack from 2014
Regular Newsletter direct to your door
Discount rate on Astro turf facility
Benefit from club rates for tickets to Croke Park matches
Your Club Membership can be registered and paid online by Credit Card, Debit Card (such as Laser) or by Cheque. Please see here to see rates and purchase
CLICK HERE
Lotto
Our Lotto is our No1 source of income and is paramount to the day to day running of the club that includes:
- Training facilities
. Affiliation Fees to National Governing bodies
. Competition Entry Fees
. Player & Officials Injury Scheme
. Public & Property Liability Insurance
. Council Charges
. Building Repairs and Maintenance
. Professional Services
. Utility Bills
. Referees Fees
Please support by buying a ticket when you are out and about or online by
CLICKING HERE
DUNSHAUGHLIN JUVENILE AGM
Dunshaughlin Juvenile AGM to members & parents in St. Seachnaills National School on January 10th at 8pm. Great opportunity to have your say in the running of your Juvenile Club so please try and attend. All Welcome.
Cake Sale
Royal Gaels are having a cake sale on Sun the 12th of January from 9.30 to 12.30 in the pastoral centre. Please feel free to drop in as it is to raise funds for the girls for the year.
Coaching Weekend
Dunshaughlin GAA is delighted to announce that we will be hosting a coaching weekend on the weekend of January 17th 2014 in our grounds. This will be the first such initiative and it offers coaches/mentors a chance to exchange ideas and learn from each other and the tutors delivering the course. There is no cost to the coaches for attending. Its also a great way to get fresh new ideas to take forward through the 2014 season Please see here for more details -
CLICK HERE
Mouthguard Information
As of January 1st, 2014 all GAA players must be equipped with mouth-guards when playing as part of the GAA's ongoing efforts to safeguard the welfare of players. Participation in GAA games will be dependent on players wearing a mouth-guard and match officials have been instructed accordingly. Mouth-guards must be worn in training as insurance will not over any claims in which a mouth-guard is not present. Please click below for more information :
CLICK HERE
Most Read Stories