Dunshaughlin Royals Blitz the Dubs in Parnell Park
May 17, 2013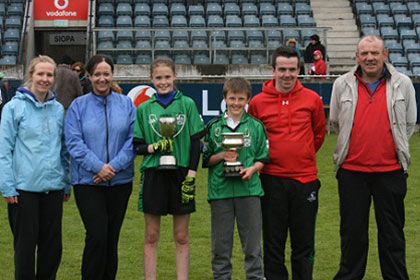 St Seachnalls captains and mentors show the spoils of victory at Parnell Park.
Boys Division 1 Final
St Seachnalls NS 3-9 St Patrick's Donabate 1-6
St Seachnall's Boys always looked the better team against St. Patrick's NS Donabate but it was only in the second half that they took control. Evan Butler scored an excellent point early on and Fionn Caulfield-Cummins then struck for a goal as the Dunshaughlin side dominated. But a failure to take their many chances left them vulnerable and Donabate dominated the closing stage of the half to draw level on 1-4 each.
St Seachnall's got their challenge back on the road with an early goal from Caulfield-Cummins and when David Fildes added another midway through the half the Dunshaughlin side was in control. Donabate could add only two second half points while St Seachnall's hit 2-5 and ran out deserving 3-9 to 1-6 winners.
Josh Kallides gave a Man of the Match display at centre back while other outstanding performances came from Kevin Bawle, Aaron Lawlor, Cathal Sheehan, Cian Hegarty, Mathew Costello, Matthew Moyles, David Fildes and Evan Butler.
St Seachnall's NS E Mahasé; Ó O Riordan, A Lawlor, K Bawle; C Sheehan, J Kallides C Hegarty; Mathew Costello (0-4), M Moyles; D Fildes (1-0), F Cummins (2-2), E Butler (0-1); L Hanley, O Caldwell, Darren Murphy, Subs: T Reilly (0-1), Alan O Connor (0-1), A Philip, N Gavin, H Dunne, C Summerville, P Kean, S Fairbrother, S O Connor, A Quinn, C Curtin.
Girls Premier League Final
St Seachnall's NS 4-0 Holy Trinity, Donaghmede 0-4.
St Seachnall's made it a unique double for the school when the Girls overcame Holy Trinity NS with a goal blitz. The girls found it difficult to play their normal free-flowing game on the short pitch but apart from the early stages were always in front. An early goal and a point from Ava O Brien and Petra Reilly seemed to signal an easy win but Holy Trinity reduced the half time deficit to two points.
Substitute Ciara Gorman, just back from Dublin Airport after flying in from Dubai, was in lethal form with three second half goals. They were needed as Holy Trinity had a monopoly of possession late on and only some excellent stops from Michelle Sherry and some near misses by Holy Trinity denied them some vital scores.
The game ended in a 4-0 to 0-4 win for the Saints and so the Girls added the Fingal title to the Meath one won in November. Best for St Seachnalls were Maria Bradley, Ava Foley, the excellent Sarah Oliver, Petra Reilly and Ava O Brien.
M Sherry; M Bradley, M McNamara; T Hetherington, A Foley, S Oliver; O Keane, P Reilly, K Doherty, M McDonagh, J Larkin; A O Brien (1-0), K O Brien. Subs: C Gorman (3-0), A Gaughan, K Reilly, A Duffy, E McCarthy, M McCarthy, E Madden.
Most Read Stories