Kiltale U14 hurlers in scoring form
September 09, 2011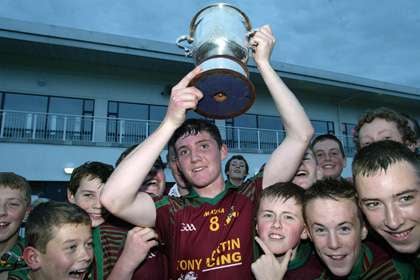 Kiltale captain Iarla Hughes raises the Ted Murtagh Cup at Lomans Park Trim.
Meath U14 Hurling Final played in Trim on Thursday 8th Sept @ 6.30pm
Referee Stephen Masterson.
Kiltale 3-15
Dunboyne 5-4
This game was played at great pace and passion and on a lovely calm evening for a change weather wise. With great support from both clubs the two teams entertained all with great skill.
Kiltale scores were Ross Ryan 1-4, Hughie O'Sullivan 1-4, Iarla Hughes 0-4, Cathal Ryan 1-1 and Sean Healy 0-2. With the Ryan twins Ross and Ronan in flying form one at each end of the field it helped bring the team together. The Kiltale defence on there toes and keeping Dunboyne at bay the backs were tight and left Dunboyne fighting for every score. The Dunboyne Centre forward was strong and put Kiltale under pressure at the end of the 1st half. Taking to the field in the second half it was Kiltale that dominated with Cathal Brien, Brian Reilly in the defence, Iarla Hughes, Eoin Crowe in the centre and up front Ross Ryan, Cathal Ryan and Hughie O'Sullivan. It was a great team performance by Kiltale. After the game Captain Iarla Hughes received the Ted Murtagh Cup, which completed a 3 in a row for Kiltale.
Kiltale team: 1. Andrew Jackson, 2. Hugh Smith, 3. Cathal Brien, 4. Jack Quinn , 5. Robbie McGuiness, 6.Ronan Ryan 7. Brian Reilly, 8. Iarla Hughes, 9. Eoin Crowe, 10.Jack Farrell, 11. Sean Healy, 12. Cathal Ryan, 13. Kyle Benson, 14. Ross Ryan, 15. Hugie O'Sullivan
Subs: Connor McNally, Adam Murphy, Padraic Keane, Liam Gilsenan, Jack Cummins
TO VIEW OR PURCHASE A SELECTION OF PHOTOGRAPHS FOR THIS GAME CLICK HERE
Most Read Stories