Horan gives new Mayo chairman his blessing
December 15, 2014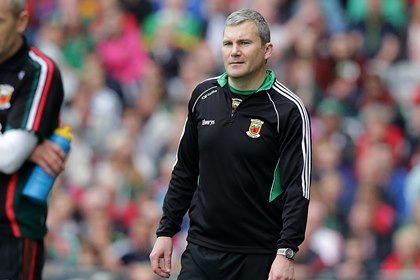 Former Mayo manager James Horan.
©INPHO
James Horan has backed new Mayo chairman Mike Connelly to be a success in the role.
Connelly, from the Hollymount/Carramore club, is a brother of Noel Connelly, who was recently appointed joint-manager of the Mayo senior football team along with Pat Holmes in succession to Horan.
He replaces Paddy McNicholas who decided not to seek re-election at last weekend's convention after he came under fire for his mishandling of the Mayo senior team management process which led to the resignation of fellow executive members Michael Diskin and Gerry Bourke.
Writing in his Western People column, Horan said of the new chairman: "It's a critical role that will allow him the scope to direct and support the improvement of football in the county. That's some challenge.
"Over the last few years, Mike has shown himself to be a great supporter of the senior team and a shrewd negotiator who knows how to get things done. He has a very good appreciation of what needs to be sorted in Mayo and where the 'landmines' are.
"He is a popular choice with the senior players as he is a man of integrity who understands the level of effort that players make. His is an absolutely critical role for Mayo football in general, particularly for the development of the support structures that are so fundamental to sustained competitiveness and success.
"Mike will have to keep a lot of plates spinning and a lot of stakeholders happy," the former Mayo boss added.
Most Read Stories