Hennelly regretted departure hugely
June 06, 2014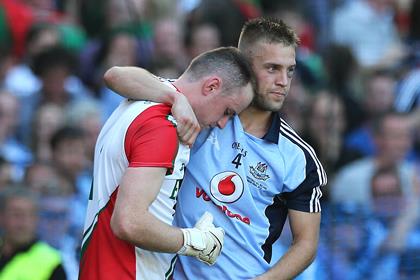 Dublin's Jonny Cooper comforts Robert Hennelly of Mayo.
©INPHO/Lorraine O'Sullivan.
Rob Hennelly says he "regretted it hugely" after he opted off the Mayo senior football panel.
First choice in 2011, Hennelly dropped himself off the panel after the 2012 Connacht semi-final win over Leitrim, having lost his place to David Clarke and taken up employment in Dublin. But he soon changed his mind and has since reclaimed the No.1 jersey:
"I'm comfortable with pressure, I must say, in the sporting kind, but it's the external pressures that really dictate how you're feeling and if you're enjoying things or not. I just wasn't enjoying it, so I left," he states in The Irish Independent.
"I suppose it was after three or four months. I'll never forget, I was sitting up in the upper Hogan Stand looking down on the All-Ireland final thinking, 'Jesus, when am I going to be back playing with Mayo'.
"I kind of thought it was the right thing to do at the time. I felt like the right decision was to leave the panel, but I regretted it hugely and it did look like I was never going to get back in.
"I said then I was going to put in the effort and move home. But circumstances didn't really open up for me because there were two very good goalkeepers.
"I would have contacted James saying, 'Listen, I'm back in the right frame of mind and I've moved home and I've got a job at home'. I was making it known that I was making myself available.
"I didn't ask too many questions when James asked me back. Initially, he said it might be only two or three weeks. I said, 'Two or three days and I'll be happy.' I haven't looked back since."
Most Read Stories