'Sloppy' play concerns Higgins
June 16, 2013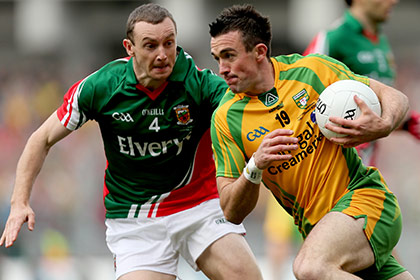 Mayo's Keith Higgins and David Walsh of Donegal. INPHO
Keith Higgins insists Mayo have plenty to work on ahead of next month's Connacht SFC final against either Leitrim or London.
The Ballyhaunis dual star, who scored a memorable first half point in Mayo's facile 0-21 to 0-9 victory over Roscommon in Castlebar, pointed to the Westerners' second half 'sloppiness' as an area they need to improve on.
"It took us a while to get going. We had a few good patches of play in the first half, but I thought we were sloppy enough in the second," he told RTE.
"We got the win which is the main thing, but there's a lot to work on, on the evidence of that second half - a lot of passes thrown astray, a lot of chances we didn't take. On a bigger day, that's nothing going to be good enough so it's something we're going to have to improve on."
The corner back dismissed suggestions that the Connacht SFC doesn't provide Mayo with the type of games they need.
"It's not a problem. We just play whoever's there. At the end of the day, we have a way which we play and a structure there," he added.
Most Read Stories